PM's Auckland home sold to young family

NZ Newswire
3/04/2018
A young family has snapped up Prime Minister Jacinda Ardern's former Point Chevalier home.
A "sold" sign has been placed outside the Moa Road home where Ms Ardern lived with her partner Clarke Gayford until recently.
The pair are expecting a baby in June and moved into a larger bungalow in Sandringham.
Professionals Real Estate salesperson Lawrence von Sturmer said his team were able to find the new buyers by looking on their database rather than advertising publicly.
This suited Ms Ardern and Mr Gayford, who wanted to complete the sale privately, he said.
Mr von Sturmer, who also lives in Point Chevalier, said there was always high demand for the suburb.
"It's a really nice community, good neighbourhood, most of the people that buy in the area are people that want to live in their homes," he said.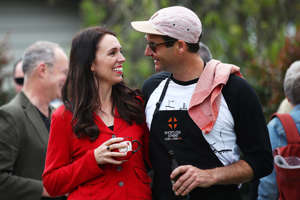 © Hannah Peters/Getty Images Jacinda Ardern and her partner Clarke Gayford host a bbq at their house on September 24, 2017 in Auckland, New Zealand "There's not many developers and there is not many rental investors, mostly just families wanting to live in a nice area."
Ms Ardern and Mr Gayford's home sold on March 10, but the real estate agents had only put up the sold sign recently, once the pair had moved out.
While refusing to reveal how much the house sold for, Mr von Sturmer did say he thought it hadn't gone for a higher price simply because the Prime Minister had lived in it.
The house had been valued at $1,120,000, according to the NZ Herald.
Ms Ardern and Mr Gayford bought a new family home as they prepare for the arrival of their first child in June.
The larger property was valued at $1.7 million, the NZ Herald reports.
Its now removed online listing featured a master bedroom with ensuite, along with three more double bedrooms, an open-plan kitchen, study, and dining and family room.