CGT backdown: Revenue Minister not worried about tax turnover

Radio New Zealand
18/04/2019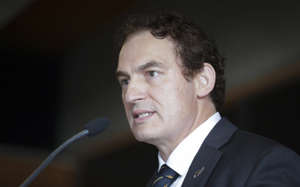 The Revenue Minister isn't concerned about the impact ditching a capital gains tax will have on the tax take.
The government announced it was abandoning a capital gains tax yesterday, after failing to get support from coalition partner New Zealand First.
Some commentators, including inequality researcher and writer Max Rashbrooke, are now questioning whether the government will be able to afford its transformational work programme without such a tax.
However Stuart Nash said while he echoed the Prime Minister's disappointment, for him a capital gains tax was never about generating revenue or fixing the housing market.
"It was about fairness, balance, and the integrity of the tax system.
"As Revenue Minister that's all I worry about, ensuring that people who earn income pay tax, not too much, not too little, just their fair share".
Mr Nash said the government was always looking for ways to make things easier for people and businesses and to generate revenue by enhancing the integrity of the tax system.
He said the Tax Working Group's report came up with several recommendations he thinks will be really effective, and that Inland Revenue will now be looking into.