Mark Zuckerberg's change of heart just cost him $2.9 billion

Bloomberg
13/01/2018
The co-founder of the world's largest social-media business saw his fortune fall $2.9 billion (NZ $4 billion) Friday after he posted plans to shift users' news feeds toward content from family and friends at the expense of material from media outlets and businesses.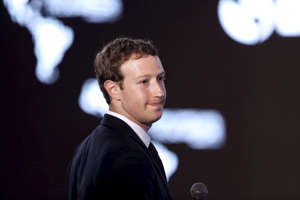 © REUTERS/Carlos Garcia Rawlins Facebook CEO Mark Zuckerberg asks a question during the II CEO Summit of the Americas on the sidelines of the VII Summit of the Americas in Panama City April 10, 2015 Shares of Facebook tumbled 4.5 percent Friday, cutting Zuckerberg's fortune to $74.4 billion on the Bloomberg Billionaires Index, costing him his place as the world's fourth-richest person.
The drop wipes out much of the $4.5 billion Zuckerberg, 33, has added so far this year. The world's 500 richest people gained $1 trillion in 2017 and an additional $17 billion in the first two weeks of 2018, according to the Bloomberg index.
Pictures: 15 Companies That Had PR Nightmares in 2017