Mayors urge govt for plastic bag levy

NZ Newswire
6 days ago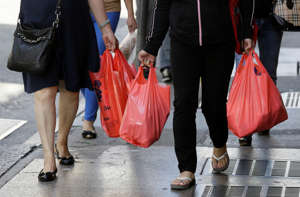 © AP Photo/Eric Risberg Plastic bags (file) The bulk of the country's mayors and regional council chairs have signed a letter calling on the government to introduce a levy on single-use plastic bags.
The letter was sent to Associate Minister for the Environment Scott Simpson, saying their communities were bearing the environmental and financial burden of the bags.
It was signed by the mayors or chairs from 65 of the country's 78 councils.
A point-of-sale levy on plastic bags would act as a deterrent and go some way towards removing bags from the waste stream, Local Government NZ president Lawrence Yule says.
The majority of New Zealanders and retailer supported the idea, he said.
"It's clear to us that we need to do more to minimise the impact of plastic bags on our environment.
"Plastic bags cause harm in their creation, when they go to landfill and when they are littered."
Last year, the Green Party lobbied for a levy, but then prime minister John Key said it wasn't on the government's agenda.
"Our general advice is that it's better for us to advance it through active encouragement, rather than a tax," he said at the time.
THE ARGUMENT FOR A PLASTIC BAG LEVY:
* New Zealanders use about 1.6 billion plastic bags a year
* On average a bag is used for 12 minutes before being thrown out
* Auckland sends 17, 000 tonnes of soft plastics to landfill, Wellington about 9000 tonnes of plastic
* A 5p levy in the UK resulted in an 86 per cent decrease in bags going to landfills
* A Washington, DC, 5-cent-per-bag tax generated nearly $2 million for environmental and other social issues