British PM May: UK economy will suffer after Brexit vote

Reuters
4/09/2016
Britain's economy will suffer as a result of the decision to leave the European Union despite signs in recent economic data that the impact has not been as severe as some predicted, Prime Minister Theresa May said on Sunday.
The June decision to leave the 28-country EU sent financial markets into shock in anticipation of a recession as Britain enters a years-long process of tearing itself away from its biggest trading partner and forging a new global economic role.
Sterling surged on Thursday after a stronger-than-expected survey of manufacturers offered the best signal yet that Britain's economy is performing better than many had initially feared.
Nevertheless, May predicted that the vote would damage the economy and said the government would continue to monitor economic data in the coming months before setting out its fiscal response to protect the economy later this year.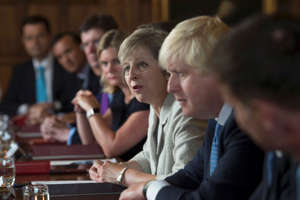 © REUTERS/Stefan Rousseau/Pool Theresa May holds a cabinet meeting at the Prime Minister's country retreat Chequers in Buckinghamshire to discuss department-by-department Brexit action plans, Britain August 31, 2016. "There will be difficult times ahead," May told reporters on her way to a G20 summit in Hangzhou, China.
"We've seen figures giving some different messages in relation to the economy at the moment. I think the reaction of the economy has been better than some had predicted post- the referendum, but I won't pretend it's going to be all plain sailing."
May was accompanied by Bank of England Governor Mark Carney, who launched a monetary stimulus package last month and forecast the economy would flatline for the rest of the year, and finance minister Philip Hammond, who has signalled a need for fiscal stimulus to protect growth.
Asked for her view on the need for a "fiscal reset" - a phrase used by Hammond on a separate trip to China in July - May said the government's response was not yet set in stone.
"We will be looking at this issue," she said. "We have to take all the data into account; by the time of the autumn statement there will be more data available. We'll have a better picture of what is happening."
No date has been set for the autumn budget statement, which May said would be when the government laid out its new fiscal position. Hammond is expected to loosen the grip of his predecessor George Osborne on the public purse by pushing back a target to run a budget surplus by 2020. (Reporting by William James; Editing by Dan Grebler and Mary Milliken)