Dairy deal 'far from perfect': Fonterra

NZ Newswire
5/10/2015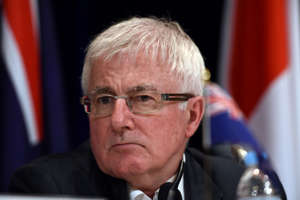 The deal reached on dairy in the Trans-Pacific Partnership has been described by Fonterra as "far from perfect".

After several days of intense negotiations in the US city of Atlanta, trade ministers from the 12 countries involved in the TPP announced they had reached agreement on the world's largest free trade pact early Tuesday (NZ time).
But dairy proved to be one of the "most sensitive" issues that needed to be resolved and Trade Minister Tim Groser says negotiations went right down to the wire - wrapping up just four hours before the press conference announcing the deal.
New Zealand hasn't been able to secure the complete removal of trade barriers for dairy and beef exports.
Tariffs will lifted on some dairy products and dairy exporters will get preferential access to new quotas in the United States, Japan, Canada and Mexico - all highly protected dairy markets.
Tariffs on beef exports to TPP countries will be eliminated, with the exception of Japan, where tariffs will reduce from 38.5 per cent to 9 per cent.
Fonterra chairman John Wilson says the conclusion of the TPP is a small but significant step forward for the dairy sector.
"While the dairy outcome is far from perfect, we appreciate the significant effort made by Minister Groser and his negotiators to get some gains in market access for our farmers," he said.
"Dairy has been very hard to resolve and New Zealand has managed to get some progress against the odds."
Mr Wilson blamed entrenched protectionism in the US dairy industry in particular for the failure to ensure a stronger agreement on dairy in the TPP.
Mr Groser remains upbeat about the TPP overall.
"Even on the worst of the outcomes on the most sensitive dairy items, the worst you could say is we're marginally ahead," he told TV3's Paul Henry.
Deputy labour leader Annette King says the TPP deal falls "well short of expectations with only disappointing crumbs for our dairy industry".