Disney Vows to Defend Rights as Snow White Appears at Wanda Park

Bloomberg
30/05/2016
"We vigorously protect our intellectual property and will take action to address infringement," the company said in an e-mail statement Monday in response to Bloomberg News queries about the characters, who resembled the Disney ones, were on display at a Wanda theme park over the weekend. "Our characters and stories have delighted generations, these illegal and substandard imitations unfortunately disappoint all who expect more."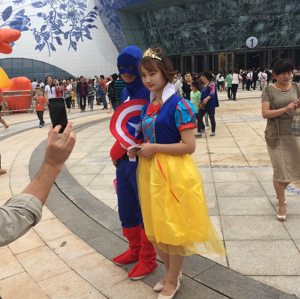 © Rachel Chang/Bloomberg Performers show up at the Wanda City park dressed as Marvel's Captain America and Disney's Snow White. Billionaire Wang Jianlin on Saturday officially opened the Wanda City park in Nanchang, the first of his conglomerate's 15 planned theme park and entertainment projects in China that it hopes will help it unseat Disney as the world's largest tourism operator.
Just over a week ago, Wang publicly challenged the Burbank, California company, saying that Disney's "one tiger is no match for a pack of wolves."
"The non-Wanda characters were operated by individual stores within Wanda Mall. They do not represent Wanda," Wanda said in an earlier statement.
The Wanda Cultural Tourism City, spanning 2 square kilometers (200 hectares) in southeastern Jiangxi province, features a theme park, a movie park, an aquarium, hotels and retail stores, according to the company. Wanda said expects the complex to attract 10 million people a year.
To contact Bloomberg News staff for this story: Rachel Chang in Shanghai at wchang98@bloomberg.net. To contact the editors responsible for this story: K. Oanh Ha at oha3@bloomberg.net, Daryl Loo
©2016 Bloomberg L.P.