'Sky Blue' diamond seen fetching $25 million at auction

Reuters
12/10/2016
The stone, named "The Sky Blue Diamond", weighs 8.01 carats and is mounted on a ring by jeweler Cartier.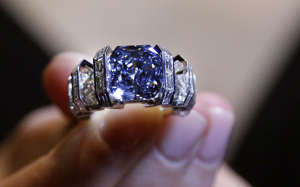 © AP Photo/Frank Augstein 'The Sky Blue Diamond' ring at the auction house Sotheby's in London It will be sold at Sotheby's Nov. 16 "Magnificent Jewels and Noble Jewels" in Geneva, with a pre-sale estimate of $15 million-$25 million.
"It really is the color of a summer sky with this beautiful brilliance and subtlety about the stone," said David Bennett, worldwide chairman of Sotheby's International jeweler division.
(Reporting By Francis Maguire)