Twitter may receive formal bid shortly, suitors said to include Salesforce and Google

CNBC
23/09/2016
The sources said the company has received expressions of interest from several technology or media companies and may receive a formal bid shortly.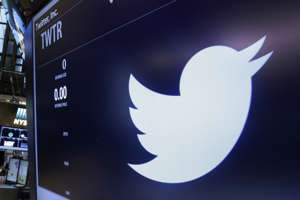 © AP Photo The Twitter logo appears at the post where it trades, on the floor of the New York Stock Exchange, Friday, June 17, 2016. (AP Photo/Richard Drew) The potential suitors include Google and Salesforce.com, among other technology companies, sources said.
Shares of Twitter were up 20 percent Friday. 
© Provided by CNBC Twitter's board of directors is said to be largely desirous of a deal, according to people close to the situation, but no sale is imminent. There's no assurance a deal will materialize, but one source close to the conversations said that they are picking up momentum and could result in a deal before year-end.
Suitors are said to be interested as much in the data that Twitter generates as its place as a media company. Salesforce declined to comment to CNBC and other companies did not immediately provide a comment.
But Salesforce.com's chief digital evangelist, Vala Afshar, tweeted his personal views about Twitter after the report. 
Why @twitter?

1 personal learning network
2 the best realtime, context rich news
3 democratize intelligence
4 great place to promote others

— Vala Afshar (@ValaAfshar) September 23, 2016
I have tweeted my personal views regarding 'Why Twitter?' numerous times over the past couple of years. I simply love Twitter.

— Vala Afshar (@ValaAfshar) September 23, 2016