Verizon completes its $4.48 billion acquisition of Yahoo; Marissa Mayer leaves with $23 million

CNBC
13/06/2017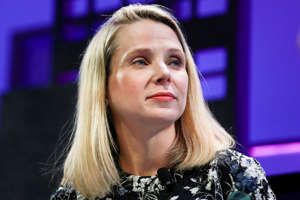 Verizon (VZ) has completed its $4.48 billion (Nearly NZD6.2 billion) acquisition of Yahoo's (YHOO) core internet business and said Tuesday that Marissa Mayer is stepping down.
The assets, which include Yahoo Finance, will be combined with AOL brands such as the Huffington Post under a new subsidiary called Oath. Tim Armstrong, former CEO of AOL, will head the subsidiary, which houses more than 50 media and technology brands.
Mayer, Yahoo CEO since July 2012, is expected to receive a "golden parachute" payment that filings with the Securities and Exchange Commission say is worth more than $23 million (Nearly NZD32 million).
Verizon announced plans to buy Yahoo's core internet business last July. After the deal was announced, Yahoo disclosed that it had discovered two data breaches in 2013 and 2014 affecting more than 1 billion user accounts.
The two companies then agreed that the final acquisition price would be $350 million less than the original offer of about $4.8 billion.
While no official announcement was made on Tuesday about job cuts, a source told CNBC last week that around 2,100 jobs could be slashed as Yahoo and AOL integrate. 

The deal ends Yahoo as an operating company and leaves it with its stake in Chinese e-commerce company Alibaba (BABA) and Yahoo Japan, its cash, convertible notes, certain minority investments, and a noncore portfolio of patents called Excalibur. These assets will be renamed Altaba. In March, Yahoo said board member Thomas McInerney will serve as Altaba CEO.
Armstrong has been leading integration planning teams since the transaction was announced, Verizon said, with Oath beginning operation on Tuesday. In April, Armstrong named his leadership team for Oath. AOL president and former Yahoo executive Tim Mahlman will head advertising technology, Yahoo engineer Atte Lahtiranta will lead tech and Verizon's Ralf Jacob will oversee digital media.
Verizon's acquisition of Yahoo is seen as a way for it to extend its reach to more consumers and boost its presence in the mobile and online video space against the likes of Google (GOOGL) and Facebook (FB).