How to avoid common mistakes when modifying a vehicle

Street Machine
10/02/2019
THIS MONTH we welcome 'Doctor' Tim Bartrop to the Street Machine fold. An experienced automotive engineer, Tim will pen a series of yarns talking us through the dos and don'ts of car modification – starting this time with the don'ts.
This feature deals with the most common mistakes Tim has encountered in the course of his automotive engineering work.
1. BUMP STOPS
© Provided by Bauer Media Pty Ltd bump stops Not fitting bump stops is by far the most common fault I see, particularly on modified vehicles where chassis, front suspension and diff changes have been made.
Bump stops are designed to limit overall suspension travel so that wheels don't contact the body panels and suspension components don't clash with chassis elements.
© Provided by Bauer Media Pty Ltd bump stops Frequently they are not there on cars I inspect, and what I find is diffs hitting the chassis, tailshafts hitting the floor, control arms fouling on the exhaust or shock absorbers bottoming out. Checking how suspension travel works in your car is critical.
2. BRAKE FITTINGS
© Provided by Bauer Media Pty Ltd brake fittings I have been experiencing a spate of NPT threaded pipe fittings in brake systems this year, in Wilwood brakes and in accessories such as brake balance and residual valve fittings. The two accepted forms of sealing brakes in Australia are the tapered-seat, parallel-threaded type and the copper-washer type; sealing brakes using tapered fittings with some sealant is not accepted.
© Provided by Bauer Media Pty Ltd brake fittings All good brake shops can rectify this situation by converting the thread to a parallel metric style, together with a banjo fitting and copper washer.
3. STEERING STOPS
© Provided by Bauer Media Pty Ltd steering stops Steering stops are designed to limit the lock of the front wheels so that they do not turn past their design point.
Like bump stops, their job is to stop wheels contacting bodywork and suspension components.
Download the Microsoft News app for your Android or iPhone device and stay up-to date on the news you care about most.
On full lock, the steering stops prevent any bump force from being transmitted to the steering box or rack-and-pinion and damaging internal parts. 

When stops are not fitted, wheel rubbing is common, brake hoses can be pulled tight and disc calipers can hit the chassis.
The worst case I have seen is where the steering arms went over centre and could not be returned. It was just lucky that the owner had never turned that far before!
4. WELDED STEERING AND BRAKE COMPONENTS
© Provided by Bauer Media Pty Ltd welded steering and brake components Most state registration jurisdictions do not allow steering components to be welded, even with X-ray and other non-destructive test methods to prove their soundness.
I have not seen an application yet where the welded part could not have been made in one piece of material to eliminate the weld.
Exceptions are welded components made by vehicle manufacturers where they take responsibility for performance.
Welded steering components are common in privately imported vehicles, so beware. Likewise, brake parts – such as pushrods and brake pedals, for example – should not be welded, due to their critical nature.
Brake pedals can have pivot bosses welded into their levers, but not onto them; we don't want to see brake pedals break off during operation.
Any fabricated brackets also need to be carefully thought through. Engineers do not like the risk involved in welded brake elements.
5. BRAKE HOSE LENGTH
© Provided by Bauer Media Pty Ltd brake hose length During the build of your modified car, make sure you turn the front wheels from lock to lock and put the front and rear suspension through their full bump and droop travel.
This will help you identify any of the previously mentioned issues.
It will also help you to work out the ideal brake hose length.
I regularly see front brake hoses that act as the steering stops because they are too short.
We see others rubbing on the inside of tyres because they are too long and can't compress enough to get out of the way on turns.
Similarly, rear brake hoses need to allow for differential droop during under-body jacking, without going tight.
6. WHEEL SPACERS
© Provided by Bauer Media Pty Ltd wheel spacers Planning your wheels properly is such an important part of a street machine project. After all, wheels are expensive!
Wheel spacers are often used when someone makes a mistake with their differential or wheel choice.
But when I asked my advisor at the Department of Transport about wheel spacers, he replied: "Nothing must come between the wheel and the hub."
The reason is that wheel spacers apply additional loads to the wheels studs, depending on the spacer thickness, so the various DOTs around Australia won't allow them.
The solution is to choose the right diff and wheels in the first place so that spacers aren't required.
7. WELDING QUALITY 
© Provided by Bauer Media Pty Ltd welding mistakes I see so much bad welding on modified cars. The owners don't seem to realise that, at highway speeds, a weld failure can be fatal.
© Provided by Bauer Media Pty Ltd poor welding Vehicle welds are subject to cyclic loads and fatigue stresses, so all welding should be carried out by qualified welders.
© Provided by Bauer Media Pty Ltd poor welding In the modern age, quality assurance and workplace health and safety are part of our everyday lives, so it must extend into our garages and apply to the quality of our welding.
8. NEUTRAL START SWITCHES
© Provided by Bauer Media Pty Ltd neutral start switches I never stand in front of or behind newly finished cars at start-up, due to the number of times I have seen the vehicle immediately jump backwards or forwards.
That's why it's important to fit a neutral start switch so the car can only be started in neutral or park. These days I know to check this before starting a car up!
9. CLEARANCES
© Provided by Bauer Media Pty Ltd clearances Ground clearance under a vehicle is generally accepted as being 100mm minimum.
What about other clearances? For safety, steering shafts should have at least 10mm or 'a finger' clearance to moving parts such as the engine and exhaust system.
Clearance to fixed components can be minimal, of course.
© Provided by Bauer Media Pty Ltd clearances The exhaust system is a source of heat and vibration, and so must be clear of the floor and allow full movement of the differential without contact.
Allowing enough tailshaft clearance might seem to be obvious, but I see so many tailshaft rub marks that I know it's not obvious to everyone!
DR TIM
© Provided by Bauer Media Pty Ltd Tim Bartrop Tim Bartrop completed his Bachelor of Mechanical Engineering in Adelaide in 1982, but was accredited with the SA Department of Transport as an automotive engineer prior to that.
He's also a proper car guy, pioneering the fitment and certification of rack-and-pinion steering to Holden front ends, and commencing his first hot rod build – a '34 Chev – at age 18.
He has also built a '36 Ford, a '40 Ford, a '48 Anglia, a '28 Model A roadster and a '32 five-window, and his most ambitious project – an HQ Monaro which he built with his son – made the Elite Top 20 at Summernats three times, and scored a feature in Street Machine.
Tim moved to Queensland in 1990 and also became accredited there, and has now been certifying modified cars for over 35 years.
© Provided by Bauer Media Pty Ltd Tim Bartrop His business, Dr Tim's Auto Engineering, is something of a retirement project, and he proudly approaches certifications with a can-do attitude.
"When I talk to people, they soon realise I'm a car person, and I want to see their cars on the road just like I do my own projects," Tim says.
"I take an encouraging approach to it; I'm there to help them, and I'll push the limits as far as I can while remaining legal and sensible.
It helps that I've come from a practical background of doing the actual work."
Pictures: 32 lies your mechanic has told you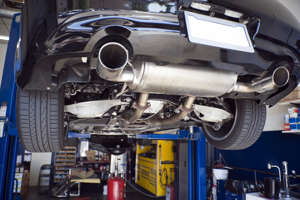 More From Street Machine

Street Machine