English takes his campaign to Kaikoura

NZ Newswire
5 days ago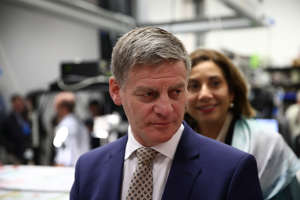 © Phil Walter/Getty Images Bill English during his campaign in Auckland. National leader Bill English is making a flying visit to Kaikoura on Friday where he'll be checking out earthquake recovery operations and talking to locals.
He'll soon be back in the capital on walkabouts and an announcement with economic development and transport spokesman Simon Bridges is on the agenda.
Labour's Jacinda Ardern will be looking confident campaigning in Dunedin.
A 1News Colmar Brunton poll released on Thursday night showed Labour and the Greens with enough support to form a government - they wouldn't have to rely on NZ First leader Winston Peters playing the role of kingmaker.
Ms Ardern's campaign theme in Dunedin will be climate change, regional development and the need for more affordable housing.
Green Party leader James Shaw will be in Christchurch announcing a transport policy for the city and a new nationwide cycling plan.