Recap: Christchurch mosque terror attacks day 9

Radio New Zealand
23/03/2019
Thousands of people are expected at the March for Love event in Christchurch today as New Zealand continues to honour those who died in the mosque attacks in the city.
It's now a week and a day since the terror attack where 50 people were gunned down at the Al Noor Mosque and Linwood Mosque.
A person has been charged with one count of murder and more charges are likely.
Prime Minister Jacinda Ardern has announced a ban on all military-style semi-automatic weapons and assault rifles.
People are today expected to be allowed back into the two Christchurch mosques where the shootings occurred.
Yesterday, tens of thousands of New Zealanders gathered throughout the country to show solidarity with the Muslim community.
The Muslim call to prayer was broadcast widely, including on RNZ, from opposite the Al Noor Mosque, followed by a two-minute's silence.
And there was a mass funeral for 26 of the victims at Memorial Park Cemetery yesterday afternoon.
Follow RNZ's live blog here: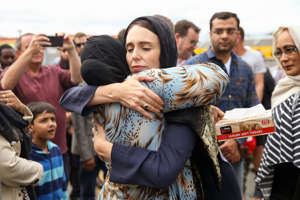 In pictures: Memorials and tributes to NZ attack victims