National's tax attack 'desperate lies'

NZ Newswire
6 days ago
It has just released a video using the slogan "Let's tax this" - a play on Labour's campaign theme "Let's do this".
Labour leader Jacinda Ardern says it's "desperate lies... full of lies and scaremongering".
The party's finance spokesman, Grant Robertson, says National introduced 18 new taxes, charges and levies.
"It has an advertisement saying Labour will increase personal taxes - that is completely untrue."
The video will soon be running on TV and online with the message that a Labour government could impose at least six new taxes which would stall the economy.
"New Zealand currently has a broad-based, fair tax system," campaign manager Steven Joyce said when he launched the video.
"We simply don't need to impose a capital gains tax, land tax, regional fuel tax, extra income tax, water tax or an inheritance tax."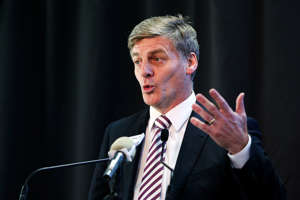 © Hagen Hopkins/Getty Images Bill English Labour has said it will set up a tax working group if it wins the election and then decide which of its recommendations to implement.
Ms Ardern has said a capital gains tax wouldn't include the family home or the land it's on.
She has also said Labour won't increase income tax.
A Newshub Reid Research poll released on Tuesday night carried a shock result - National had gained four points to 47.3 per cent while Labour had slipped to 37.8 per cent.
It's being interpreted as an indication voters are starting to think about Labour's policies rather than its new leader, and are becoming concerned about unspecified taxes that could be implemented if there's a change of government.
Previous 1News Colmar Brunton polls have shown Labour in the lead.