Peters 'a dog barking at every car': Joyce

NZ Newswire
6 days ago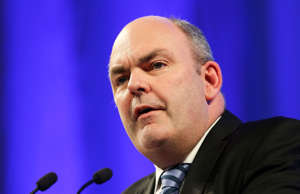 National's campaign manager is contrasting the government's stability with a "very shaky" opposition alternative.
Steven Joyce thinks people will be scratching their heads as they watch Labour, the Greens and NZ First sniping at each other.
"I think the public is entitled to think 'well, gosh, is this the alternative?'," he told reporters on Monday after a weekend of political action.
NZ First leader Winston Peters said he would demand a binding referendum on the Maori seats and another on whether the number of MPs should be reduced to 100 from the current 120.
He's also vowed to get a new rail link for Northland and has warned the Greens of "consequences" for saying his party has a racist attitude to immigration.
Mr Joyce says he thinks voters will take it all with a grain of salt.
"I think he's got a huge number of bottom lines. I just think at the moment he's like a dog barking at every passing car," he said.
"But they know Winston, he's been around for 40 years, we've seen it all before."
Mr Peters has taken a shot at Labour leader Andrew Little, asking why he's referred to as a potential prime minister when he might not even be in parliament after the election.
He's referring to MMP number crunching which means Mr Little, a list candidate, won't be re-elected if Labour's vote slumps to 23 per cent.
The latest UMR poll, leaked to the media, shows Labour at 26 per cent.
Mr Little says he has "no fears whatsoever" about being re-elected.
"Winston is a very colourful character in New Zealand politics and he's got some principles too," he told the New Zealand Herald.
"But he is a blowhard and this is blowhard politics ... in the end this election won't be fought on the basis of swinging dicks, it's going to be fought on the basis of what party has demonstrated that they have been listening to the real concerns of New Zealanders."