Sculpture honours post-quake resilience

NZ Newswire
6 days ago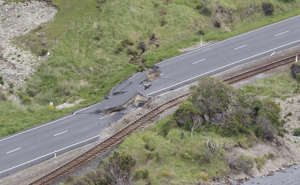 © Getty Images The earthquake damaged the main trunk railway line north of Kaikoura in November 2016. Kaikoura's post-earthquake resilience will be recognised with a sculpture at the town's rail station.
The unveiling coincides with the first freight train arriving in Kaikoura, since last November's quake caused widespread damage to the Picton-Christchurch rail link.
Artist Ben Foster, who made the sculpture, has kept the details under wraps until the ceremony on Friday.
"It's designed as a reminder that change is constant and to communicate the power of nature," Mr Foster said.
Meanwhile, KiwiRail chief executive Peter Reidy says the sculpture will be an enduring reminder of the resilience, not only of Kaikoura, but the other communities along the coast, in the wake of the devastation caused by the November 14 earthquake.