10 Most Romantic Places in the UK

HuffPost
25/07/2015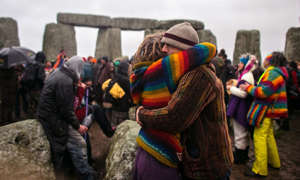 © Matt Cardy/Getty Images A couple embrace as druids, pagans and revellers gather in the centre of Stonehenge in Wiltshire, England. Britain can be incredibly romantic. Not the obvious stuff like the Tower of London, Stonehenge, or Shakespeare's Stratford. But there are many, many gorgeous little hideaways and beauty spots that most tourists never see. Here are 10 of the most romantic places to spend a couple of days, from quirky to posh, urban to remote. Whichever you choose, I guarantee no coach parties.
1. Red Kite Tree Tent, Wales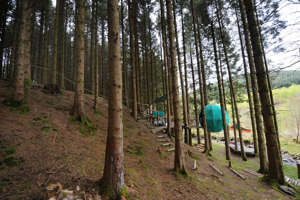 © Provided by The Huffington Post Red Kite Tree Tent, Wales. For a unique glamping experience, Red Kite Tree Tent looks like a magic ball hanging amongst the forest. It's actually the UK's first tree tent, a lightweight 3m sphere containing a double bed that folds away during the day to create a sofa. Outside, you have a gas camping stove, a sink with running water and shower cubicle. There's a toilet, fire pit and barbecue beside a nearby stream. Three nights cost from £385 ($599) with welcome food hamper.
______________________________________

Also on MSN Travel:
Check the exchange rate with our currency converter

______________________________________


2. The Scarlet Hotel, Cornwall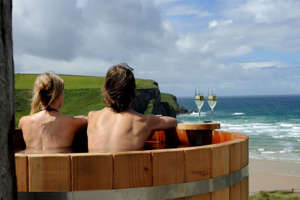 © Provided by The Huffington Post The Scarlet is a beautiful, adults-only, eco-friendly hotel overlooking Cornwall's Mawgan Porth Beach - like a little bit of Australia on your doorstep. With clifftop hot tubs, a natural reed-filtered swimming pool and an Ayurvedic-inspired spa - all with panoramic views over the beach and Atlantic Ocean - its perfect for couples who want to combine romance with pampering. Rooms start at £280 ($436) for a two-night minimum stay.
3. Castle Cottage Treehouse, Sussex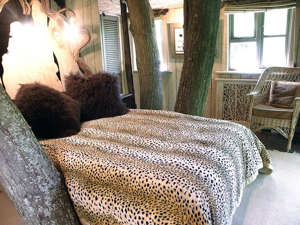 © Provided by The Huffington Post For couples that want to commune with nature, the Castle Cottage Treehouse has a double bed set between the branches of a giant sweet chestnut tree with a thatched roof and glass doors offering spectacular views of a Sussex wood. It's comfortable as well as cosy with a glass-roofed shower room and a large balcony with swing seats. From £160 ($249) per night with breakfast.
4. The Beermoth, Inshriach House, Aviemore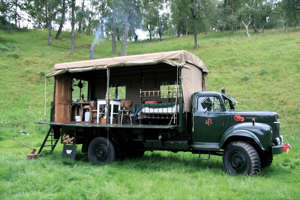 © Provided by The Huffington Post This 1956 Commer Q4 fire truck has been converted into a quirky bolthole for two on the beautiful Inshriach Estate. The Beermoth features an oak parquet floor, a Victorian double bed and wood burner. Nearby activities include fishing and swimming in the river and a sauna-in-a-horsebox tucked away on the estate. The truck for two costs from £68 ($106) per night.
5. Anderby Creek, Lincolnshire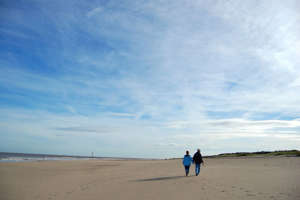 © Provided by The Huffington Post Tucked between the small seaside towns of Chapel St. Leonard's and Sutton-on-Sea, the beach at Anderby Creek is a beautiful stretch of soft sand backed by dunes - perfect for bathing or strolling hand in hand. The beach is also home to the Cloud Bar which has a viewing platform with 'Cloud Menus' to identify the different formations, viewing mirrors and cloud-viewing seats where visitors can recline and watch the changing skies. Sykes Cottages has cosy cottages for two nearby. 
6. Hotel Gotham, Manchester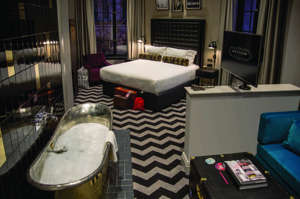 © Provided by The Huffington Post The new Hotel Gotham in Manchester's central conservation area has naughty written all over it. It's set in one of the city's grandest, listed buildings - a former bank premises at 100 King Street, designed by Edwin Lutyens and referenced in Pevsner's Architectural Guide. Along with 60 sultry bedrooms, there's a restaurant, a prohibition-style bar and members-only rooftop club. Book an inner sanctum suite with private inner courtyards for maximum seduction. Doubles from £150 ($234).
7. Harry's Hut, Studland Bay, Dorset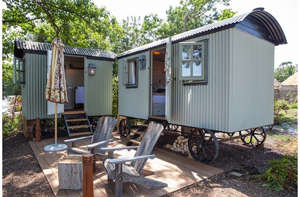 © Provided by The Huffington Post The Pig on the Beach is one of those fine boutique hotels that come with romance guaranteed. If you like glamping, Harry's Hut is made up of two shepherd huts, one with a double bed and log burner, the other with a free standing bath. You can dine on locally sourced food up at the main house and indulge in spa treatments in a sheep hut. From £225 ($350) per night.
8. Salcombe Hotel, Devon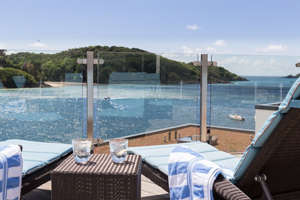 © Provided by The Huffington Post Overlooking Salcombe Estuary, the refurbished Salcombe Hotel features 50 new bedrooms with private balconies and panoramic sea views (some from a freestanding bath tub), a new Harbour Spa and a mouth-watering restaurant, complete with a Crustacean Bar, which offers fresh fish and seafood. Sea view doubles start from £345 ($537).
9. Lantic Bay, Cornwall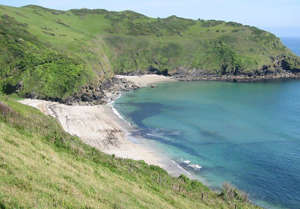 © Provided by The Huffington Post Sheltered in a cove along the south-east coast of Cornwall, Lantic Bay is a serene escape from the bustle of the county's more crowded beaches. You can only reach this hidden gem on foot. As you complete your descent into this secluded paradise you're presented with the glorious sight of a white sand beach and turquoise sea. Boutique Retreats has cottages for two nearby.
10. The Birdcage, Cornwall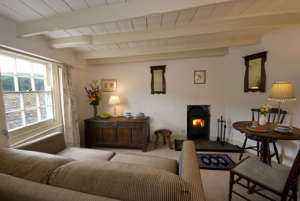 © Provided by The Huffington Post This is one of most unusual cottages owned by the National Trust. The Birdcage in Port Isaac is a Grade II-listed three-storey pentagonal building with low ceilings, tiny rooms and a staircase that narrows to just over a foot wide in places. It sleeps two and has a terrace reached through the bathroom. It costs from £225 ($350) for two nights.