10 Totally Travel-Worthy Fall Events

HuffPost
21/09/2015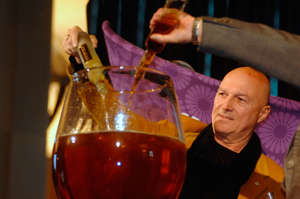 © REUTERS/Doug Benz The Guinness World Record flute of ice wine is poured by Donald Ziraldo of Ziraldo Wines as part of the Niagara Icewine Festival in Ontario. Summer is on the way out. Time to tuck your swimsuit away in the bottom drawer and break out the wool sweater. But don't despair just yet, summer lovers! There's a ton of happenings around the globe this autumn that will have you greeting cooler temps with a grin. Here are 19 travel-worthy fall events worth traveling for, in no particular order:
1. Niagra Wine Festival: Ontario, Canada (Sept 12-13, 19-20, 26-27)
Just an easy hop, skip and jump from Buffalo, New York, Canada's gorgeous wine country rolls out the red carpet to oenophiles over the course of three long weekends that include live entertainment, educational seminars, demonstrations and traveling the region's abundant wine route.
2. Kentucky Bourbon Festival: Bardstown, KY (Sept 15-20)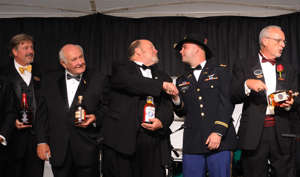 © AP Photo/Kentucky Distiller's Association, Patti Longmire In this photo provided by Patti Longmire, 1st Lt. Clint Hooker shakes hands with Fred Noe, Master Distiller of Jim Beam, at the Kentucky Bourbon Festival Gala. The signing of the Declaration of Independence wasn't the only big event to happen in 1776. It was also the first year the people of Bardstown started making bourbon and today the Bourbon Capital of the World boasts this six-day fest featuring tasting, black-tie galas, tasting and children's activities.
3. Oktoberfest: Munich, Germany (September 19-October 4)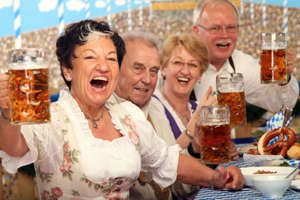 © Provided by The Huffington Post A 19th century horse race to mark the wedding of the Ludwig Crown Prince of Bavaria to Princess Therese von Sachsen-Hildburghausen marked the beginning of what has become a two-week celebration of beer, wine and food (and more beer) in Germany's jubilant Bavarian capital.
4. Galway International Oyster and Seafood Festival: Galway, Ireland (September 24-27)
The oldest oyster festival on the planet--celebrating its 60th birthday this year--pays tribute to the bivalve with four days of merriment including the Galway Oyster Festival Parade, a Mardi Gras Masquerade Ball, musical performances, live cooking demos and a whole lot of oyster slurpin'.
5. Trans-Pecos Festival of Music and Love: Marfa, TX (September 24-27)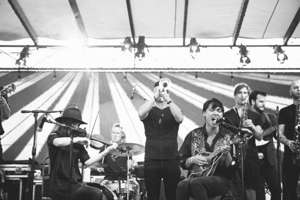 © Photo Credit: Alysse Gafkjen, Provided by The Huffington Post The quirky desert outpost of Marfa is a haven for artists, drifters and spiritualists that once a year plays hosts to a weekend festival of live music, sandlot baseball, workshops, art installations in more at the quirky tent and teepee campground El Cosmico. This year Trans-Pecos celebrates its tenth anniversary.
6. Life is Beautiful Music and Art Festival: Las Vegas, NV (Sept 25-27)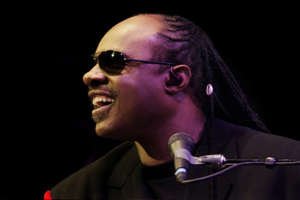 © Provided by The Huffington Post Stevie Wonder. This inspirational music and art fest storms the streets of glittery Sin City for three days of live performance, art, food, renowned speakers and empowerment. Spanning 11 city blocks, this year's fest boasts the eclectic likes of Stevie Wonder, Duran Duran, Hozier and Chance the Rapper.
7. Hong Kong Wine and Dine Festival: Hong Kong, China (October)
Tuscany and the Napa Valley aren't the only places that raising a glass to the grape each autumn. HK's annual Wine and Dine Festival offers an entire month of celebration in which the city's top chefs collide with wines from around the world for a month of carnivals, tastings, tours and more.
8. Hell Yes Fest: New Orleans, LA (October 1-11)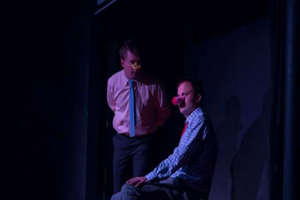 © Photo Credit: Brian Tarney, Provided by The Huffington Post NOLA is gorgeous in the fall and largely off the radar of the tourist masses who raid the city every spring. Check out this combo film and comedy festival happening all over the Marigny and featuring stand-up, sketch, improv and live podcasts and headliners Tim Heidecker, Todd Barry, Nikki Glaser and more.
9. Buffalo Bayou Park Grand Opening: Houston, TX (October 3)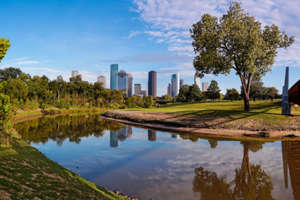 © Provided by The Huffington Post Park space in a city that often feels like a dense tangle of strip malls, freeways and fast food joints is a reason to celebrate and Houston is doing just that with a day of activities to in honor of newly renovated Buffalo Bayou Park including walking tours, live music, children's activities and more.
10. Albuquerque International Balloon Fiesta: Albuquerque, NM (October 3-11)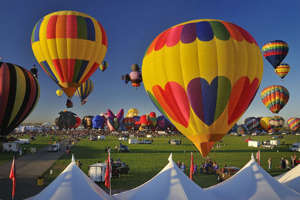 © Photo Credit: Paul de Berjeois, Provided by The Huffington Post The Land of Enchantment blows a lot of hot air--in a good way--at this annual fest whose highlights include musical performances, a chainsaw carving invitational, a fireworks display and Mass Ascension--in which dozens of hot air balloons simultaneously takeover the southwest sky.
See 9 More Totally Travel-Worthy Fall Events on the Orbitz Travel Blog.