11 Things You May Not Know About Hong Kong

HuffPost
18/07/2015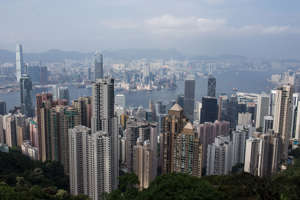 © Billy H.C. Kwok/Bloomberg Residential and commercial buildings are seen from Victoria Peak in Hong Kong, China. If you've lived in or visited Hong Kong before, you have most definitely mastered the art of passive-aggressively elbowing strangers out of your way, and have likely also developed the reflexes of a born kung fu master from dodging umbrella spines that threaten to poke out your eye (rain or shine).
It's a true city -- ripe with culture and contrast etched into the very core of the people who live there.
I have lived in Hong Kong. In fact, I was born and raised there, zero to 18. And though the perceived notions of Hong Kong (big, bustling, and ultra-crowded) are true, I'm here to share a few things you may not know.
More Than Just a City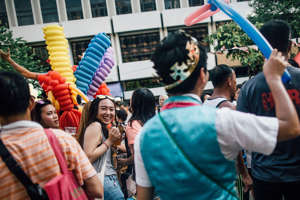 © Anthony Kwan/Getty Images for Hong Kong Images Most get distracted by the sprawling and impressive skyline and think that's all there is to it; steel, glass, shopping, and business. However, less than 25 percent of Hong Kong is developed, 40 percent is dedicated country park and nature reserves, and 70 percent of its territories are rural and made up of lush mountains, forests, and islands (some larger than the city district itself). 
1. Beaches: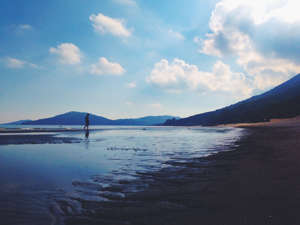 © Provided by The Huffington Post If you don't mind crowds, stay on the main island and venture to easy-to-get-to beaches like Repulse Bay and Big Wave Bay. If however you prefer your open spaces, make the effort to journey to the New Territories or one of the outlying islands for a more peaceful escape.
2. Waterfalls:
"Hong Kong" and "waterfalls" aren't synonymous in most people's minds. However, there are plenty tucked into the crevices of mountains. You'll find yourself enthralled by these lush escapes, and blown away by how diverse the city is.
3. Hiking: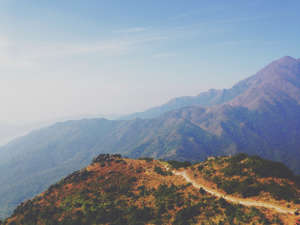 © Provided by The Huffington Post Home to over 22 ultra-marathons per year, the dirt roads are well-travelled and yield a very different kind of view than those atop a skyscraper.
4. (Free) Camping:
Everyone's favorite word -- free! Millions of visitors from mainland China flock to Hong Kong to shop 'till they drop, with empty suitcases ready to be filled and wads of cash in their pockets. One would assume then, that these cash-heavy tourists wouldn't mind splurging on a hotel for their weekend across the border. But once the free campgrounds were discovered, everyone began dragging their diamond-encrusted Cartier watches and Chanel bags towards their beachside tents instead.
Skyscrapes vs. Metal Cages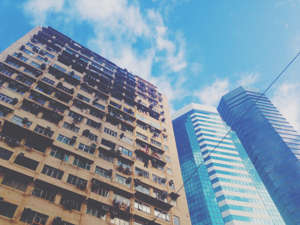 © Provided by The Huffington Post The lifestyle of wanting-it-all, having-it-all right now, now, now is truly alive in Hong Kong. And, the sheer polarity between those who walk (with the clickity-clack of designer shoes) upon spotless marble floors, and those who clean them is very real.
5. Minimum Wage
The first minimum wage introduced in May 2011 was $28 HKD per hour -- a shocking $3.61 USD. It has since increased to $32.5 HKD per hour in May 2015 ($4.19 USD), reports SCMP.
6. Metal Cage Homes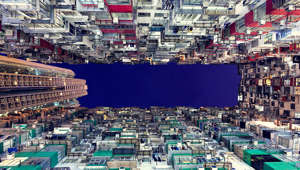 © Provided by The Huffington Post The disparity between minimum wage and cost of living has resulted in a majority of the population residing in government subsidised 6ft by 2ft "homes," costing $1,200HKD ($161.2 USD) per month. WSJ recently reported, the new developments in Hong Kong are so small (averaging 180 sq. feet), they have been given the moniker "mosquito-sized units." Here's a fun fact: a kitchen in the average U.S. new small home is 195 sq. feet.
Culture: Old vs. New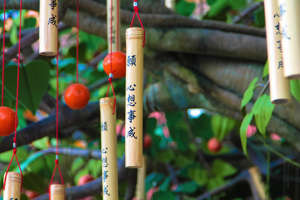 © Provided by The Huffington Post You'll be in the midst of a local wet market, the smell of sun-dried scallops and hand-made XO sauce in the air. Then, a 10-minute walk away and you'll find yourself surrounded by glossy skyscrapers that spiral high into the clouds, your reflection staring back at you in wonder.
7. The Old: Big Buddha, Temples & Monasteries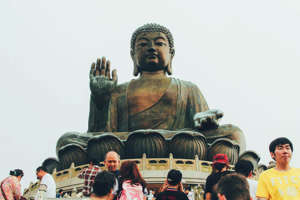 © Provided by The Huffington Post There are temples-a-plenty in Hong Kong, all culturally-rich hubs with exotic smelling incense. Nestled high in the clouds on Lantau Island, resides the world's largest sitting bronze Buddha. Surrounding it is the village of Ngong Ping, home to the serene Po Lin Monastery where Shaolin Monks, in their golden robes, live and train daily.
8. The In-Between: Horse Races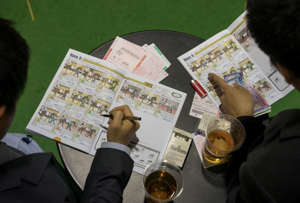 © Provided by The Huffington Post When the horse races first started up back in 1841, enjoyment of the sport was confined to the city's elite, but has made its way into "mainstream" entertainment since then. Spend your Wednesday evenings gambling to the rumble of horse hooves, and the cry of hard-core betters crying out in defeat or victory. Of course, there are those (like myself) who go purely for the atmosphere, and bet by the hilariousness of the horses names: "Pakistan Baby," "Bear Rapper," and "O'SOCOOLE" are just a few of my personal favorites.
9. The New: Tech-Centric Fitness Classes
Fitness has become equally as trendy as that new pair of Jimmy Choo's, and PURE Fitness (Hong Kong's locally made upper-class workout studio chain) has exceeded on this front. Their "Immersive Fitness" studio is the first of its kind worldwide, and its 270-degree screen leaves you breathless. You'll ride through a space-age city, or race your way up steep glaciers without leaving the comfort of the studio.
10. If You're Vegan, You'll Survive

© Provided by The Huffington Post A few of my vegan and vegetarian friends were worried they'd have nothing to eat in Hong Kong, considering asian foods love their fish-sauces and meat-lover ingredients. Not to worry though, the Green Queen (Hong Kong's #1 Green Living Guide) will help you locate all the vegan, gluten-free, and health-aware places to eat around town.
11. You Don't Need Chinese to Get Around
If 91 percent of the population is of Chinese descent, how can you not need to speak Chinese? Well, aside from some general knowledge (food, greetings and directions), I barely speak any (shameful, I know). Seeing as Hong Kong was a British colony way back when, the city takes into account the need for English -- with menus, road signs, and public transit all "English-speaking-friendly".