12 European Mansion Hotels That Are Postcard-Perfect

HuffPost
26/09/2015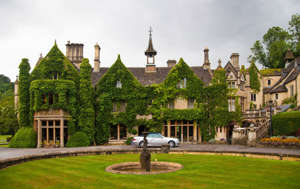 © IR_Stone/ Getty Images A beautiful mansion turned to a luxury hotel in England. Come fall and its cooler temperatures, a stay in a historic mansion-turned-hotel sounds particularly cozy. And sorry North America, South America, Asia, Africa, and Australia (Antarctica, you were never in the running), but nowhere does a stunning estate better than Europe. From centuries-old manors in the countryside to stunning former palaces nestled along the coast, here are a dozen European mansion hotels that are worthy of a postcard.
1. Sherbrooke Castle Hotel, Glasgow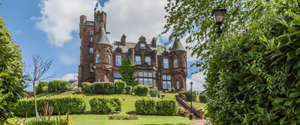 © Provided by The Huffington Post Sherbrooke Castle Hotel, Glasgow. A Victorian mansion originally built as a family home in 1896, Sherbrooke Castle Hotel features a red sandstone facade, complete with turrets and towers, that makes for a grand entrance. The upper-middle-range hotel has 18 rooms with varying styles that include quality wooden furniture and spacious well-lit bathrooms. Located in a residential area on the outskirts of Glasgow city, it's a peaceful, romantic retreat.

2. Grand Hotel Villa Cora, Florence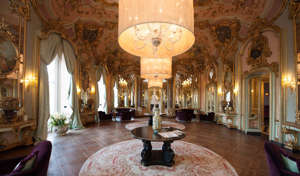 © Provided by The Huffington Post A luxury hotel with history and style just south of the center of Florence, the Villa Cora was built in the late 1860s by Baron Oppenheim, a German financier, and was restored in 2010. It is part of the prestigious Relais & Châteaux fellowship of hotels and restaurants, and features stunning interiors throughout. With a unique heated outdoor pool and a subterranean spa, the property is a good spot for both relaxation and sightseeing, as the hotel provides a free shuttle.
______________________________________

Also on MSN Travel:
Check the exchange rate with our currency converter

______________________________________


3. Hotel Jan Brito, Bruges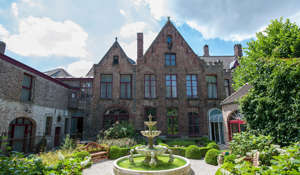 © Provided by The Huffington Post The 37-room Hotel Jan Brito is an upscale hotel with elegant decor set in a beautifully renovated 16th-century building. Outside, there is a charming garden with gravel paths and an impressive stone fountain. Free breakfast is served in a sophisticated dining room and there's a small bar on-site in a pretty parlor. The rooms are elegant and classic, with minibars and free Wi-Fi.
4. Pestana Palace Hotel, Lisbon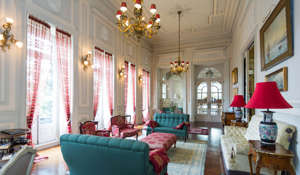 © Provided by The Huffington Post The opulent Pestana Palace is a luxury hotel in a gorgeous 19th-century palace. Features are expansive, and include an elegant Portuguese restaurant, a beautiful outdoor pool, a spa with a sauna and indoor pool, and a fitness center. The property also has an impressive series of lounges and living rooms, with ornate design, antiques, and lovely artwork. There's also a parlor bar, and in warm weather, guests can have a drink at the pavilion bar overlooking the garden. Even Standard Rooms are spacious and elegant, and royalty-worthy suites may have large furnished balconies with beautiful views and huge bathrooms with claw-foot tubs and separate showers.
5. La Maison du Parc, Normandy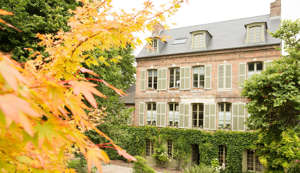 © Provided by The Huffington Post Passing through an old wooden gate flanked by redbrick pillars and topped by a pair of lions, a short, shingled path leads to a lush, secluded garden full of flowers and shrubs that's dominated by a huge old Araucaria tree. Set in this leafy glade is La Maison du Parc, an 18th-century redbrick townhouse covered in ivy. There's very little to find fault with here, with its lovely gardens, beautifully maintained townhouse, five superbly finished rooms, and excellent fresh continental breakfast. It's located in a quiet neighborhood, a short walk from the town center and its amenities.
6. Centrale Palace Hotel, Sicily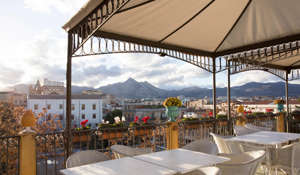 © Provided by The Huffington Post One of the main draws of the 104-room upscale Centrale Palace Hotel is its impressive 18th-century Palazzo setting, and many of the hotel's public areas are Baroque and spectacular. However, guest room quality varies and while Superior Rooms are stylish, Classic Rooms show some wear-and-tear. This hotel is central to most major Palermo historic sights and the on-site Ai Tetti restaurant and bar has spectacular views across Palermo.
7. Schlosshotel Im Grunewald, Berlin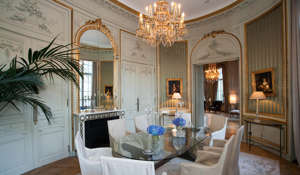 © Provided by The Huffington Post Set in a quiet residential neighborhood far from the city center, the 53-room Schlosshotel Im Grunewald is a small but opulent five-pearl boutique that was once a private mansion. The interiors have since been redesigned by Chanel's Karl Lagerfeld to dazzling effect. The standard Deluxe Rooms are small yet posh, offering free minibars and marble bathrooms with heated floors, and there are a handful of incredible suites. An indoor pool, full spa, and beautiful gardens provide plenty of space for the well-heeled traveler to relax, and the nearby Grunewald forest is a great natural perk.
8. Macdonald Bath Spa Hotel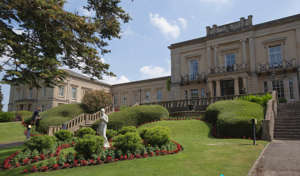 © Provided by The Huffington Post Pulling up to this gorgeous Georgian estate -- which once served as a private home, boarding school, wartime hospital, and place frequented by Winston Churchill -- guests are greeted by manicured grounds, a columned facade, and sweeping stone staircases, all adding to the fine English manor ambiance. The rooms are classically decorated and offer modern comforts that include free Wi-Fi and flat-screen TVs. A full-service spa with a well-stocked health club, two swimming pools, and immaculate gardens give visitors lots of opportunity for activity or relaxation.
9. Le Sirenuse Hotel, Amalfi Coast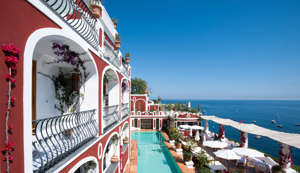 © Provided by The Huffington Post A boutique luxury hotel, the Sirenuse was originally built as a lavish summer mansion in the 1950s and still maintains a homey but elegant ambiance. One of the priciest hotels in Positano, it is also perhaps the most beautiful, and lives up to its upscale reputation with pristine grounds, thoughtful free extras (like snacks and boat trips), and a renowned restaurant. Rooms feature antique furniture and modern appliances.
10. L'Hotel, Paris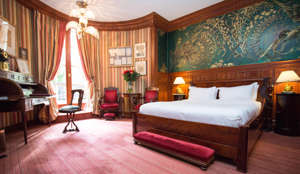 © Provided by The Huffington Post During the 19th century, L'Hotel was home to Oscar Wilde and also a private residence for Queen Margot. It even did a stint as a brothel at the end of that century before becoming a hotel. Today, the chic boutique property in the elite St. Germain neighborhood features 20 cozy rooms. L'Hotel has impressive features for such a tiny property, including an underground spa pool and Michelin-rated restaurant. It's hard to find another hotel that matches the L'Hotel's rich history, elegance, and character -- though the age of the building can make for some small spaces, including a tiny elevator.
11. Ballynahinch Castle Hotel, Ireland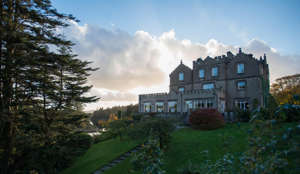 © Provided by The Huffington Post This charming stone manor house dates to the 18th century, and the 450-acre country estate embodies the sort of wild country beauty that Connemara is famous for. The grounds hardly appear to have changed for the last several hundred years, and indeed, the age-old country activities of fishing and shooting endure today. Past owners have included the O'Flaherty clan (the 16th century "Pirate Queen," Grace O'Malley, married into the clan and was one of its more noteworthy members); Richard Martin (a member of Parliament nicknamed Humanity Dick for founding the Society for the Prevention of Cruelty to Animals); and the Indian Maharaja, Ranji, who bought the estate in 1922.
12. Cote Canal, Bruges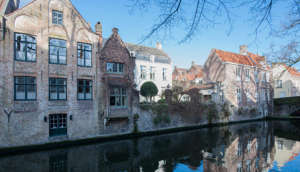 © Provided by The Huffington Post The Côté Canal certainly qualifies as one of the most picturesque guesthouses you'll find in Bruges, or anywhere, for that matter -- Winston Churchill even painted it on one of his many trips to the city. Parts of this canal-side property date back to the 16th century and the owner, Caroline, has gone to great lengths to personally renovate and restore the building to, and even beyond, its original period elegance. The house has been in her family since 1901 and was inherited from her grandparents. The interiors are an elegant and romantic mélange of genuine antique furniture, 18th-century etchings, plush red velvet seating, neoclassical statuary, and ancient family relics. A pretty rear garden, complete with a 100-year-old pear tree, overlooks the canal.