16 Things I Learned From Friends Who Moved to Foreign Countries

HuffPost
23/02/2016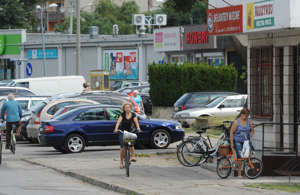 © AP Photo/Alik Keplicz I was the kind of person who couldn't understand how someone could just leave home and move to a foreign country. I was the kind of person who couldn't understand how someone could just leave home and move to a foreign country. Many of my friends decided to pursue positions in Europe and Asia right out of university. Within a few months of graduating, I took an engineering job locally and my friends had gone abroad.

I was plagued with this question: What kind of person could pick up and move away from their native country to re-establish herself so far away? What characteristics did they possess, that I obviously lacked, to enable them to leave friends, family and an environment they'd known all their lives to take up residence somewhere, well, foreign.
Language would be a barrier, cultures would be different, traditions would be unfamiliar, our fast food favorites wouldn't be around, and most importantly, there wouldn't be familiar faces on the street. How could anyone venture forth to worlds unknown where every little thing was going to be strange and different? It would be like stepping into an episode of the Twilight Zone "offering up a fifth dimension beyond that which is known to man."
I thought about my friend's personality traits and wondered if I should blame my mother for my deficiency in some admirable qualities that enabled my friends to confidently move. Perhaps there were positives to consider for all those negative assumptions I made. For instance, the weather change may be inviting. Growing up in Canada has given me no love of shoveling snow nor slipping on ice.
Thinking about those qualities my friends possessed, I began to wonder if I could adopt them in the event that perhaps some day I might leave my home country and live somewhere, well, you know, foreign.
Over the years, I've grown to understand that it's been all about knowing how to live and not just dreaming of living. I recently compiled a list of those wonderful attributes I learned from my friends, and that are so invaluable for the kind of travel I now do.
They realise that people are primarily friendly wherever they go. They allow themselves to embrace the limitless kindness of strangers who just want to help. It's our perception of unfriendliness in the world spread by the news media that prevents us from seeing others as normal as ourselves. We are all people.

They embrace new cultures and traditions. Rather than imagining a world beyond their own, they step out to experience it in real life.
They relish adventure, exploration and discovery. They won't be disappointed that they didn't pursue their goals because they live their life with a sense of urgency.
They are comfortable within themselves and self confident enough to set sail away from the safety of their harbor. They realize that their ship is safe in harbor, but that's not what it's built for.
They are prepared to see the beauty, charm and wonder that is all around them and that beckons them forth.
They understand that strangers are friends they have not yet met. They open their hearts to the possibilities of new and lasting friendships.
They realise that they are the strangers when they travel, not those that live in a foreign country. So they are eager to hear about and accept someone else's way of life, and eager to tell them about their own.

They understand that people are basically like-minded everywhere. They have the same hopes for themselves and their families; the same worries about the future, and wishes for their fellow human beings. Understanding this notion nurtures a closer rapport with newly made acquaintances.
They enjoy the thrill of learning new things. There is so much to see and learn in the world, and they choose not to limit themselves with a small set of familiar experiences.
They know that travel broadens their mind, and allows them to look at and better understand the world around them.
They are adaptable and resilient. In other places, conditions may be very different to what they are accustomed, but they are able to find ways of integrating into a new country and in particular, becoming part of a new community. They're able to accept new and varied comfort levels that they perhaps haven't previously experienced.
They meet the challenges ahead of them. With a concentrated focus on their goal, they find solutions to barriers on the road.

They are motivated to take that first step toward their dreams. They know that every adventure, every experience, every thing they've learned had to begin somewhere. If we learned to walk, it started with getting up on both legs. What counts is beginning the journey; all else follows.
They are able to experience everyday things, seeing them as if for the first time and not taking anything for granted. Travel reminds them of being present to the beauty that surrounds.
They take risks even if they have fear. Fear is just another name for excitement. They know that no amount of planning will ever account for what can really happen. They trust their instincts and resources to meet the challenges that will inevitably happen. They anticipate the new experiences.
They revel in the chance to sing, dance and play wherever and with whomever they happen to be.
Unlike when I was in my twenties, I now know that these things are easy to understand and not so difficult to embrace. I have become that person who can pick up and leave a home I've known all my life.
A few years ago, my partner and I sold our home and all of our possessions to travel the world as nomads, perpetual travelers, with no foreseeable end. My friends left when they were in their twenties. They never looked back.
I finally left in my fifties and I'm sure I'll never look back as well. Especially at this age, looking back means tripping and falling! Seriously, there's only tomorrow and tomorrow and tomorrow, in an exciting pace that keeps us alive and happy.