5 First Class Airplane Cabins That Are Basically Hotel Rooms

HuffPost
9/07/2015
© Carla Gottgens/Bloomberg A Singapore Airlines Ltd. flight steward prepares the double bed in the luxury class suite of the new A380 superjumbo aircraft. With personal butlers and turndown service, it's hard to tell whether you're sitting in a hotel room or on an actual airplane. Here are some of the most extravagant airline suites in the sky.
1. Singapore Airlines 
Singapore Airlines is the first and only commercial airline with the ability to take an adjacent suite and turn the space into a double bed.
Amenities: Gourmet menu and wine list, Givenchy tableware, 23-inch LCD screen (with video-on-demand), and turndown service.
2. Etihad Airways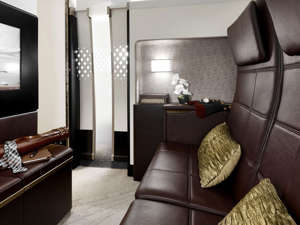 © Courtesy: Etihad Airways, Provided by The Huffington Post Starting in December, Etihad Airways will offer "The Residence"--a completely private three-room suite with a closed-off bedroom, living room, and private bathroom.
Amenities: 32-inch flat screen TVs, shower, Egyptian cotton sheets, and a personal butler for the duration of the flight.
3. Air France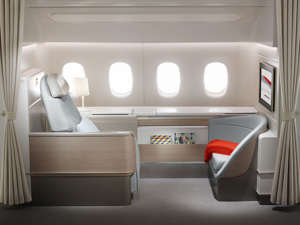 © Courtesy: Air France, Provided by The Huffington Post Clean, crisp and elegant, Air France's La Premiere cabin features a private wardrobe and a thick adjustable curtain for extra privacy. There's also a reclining ottoman, so guests from other parts of the cabin can visit you mid-flight.
Amenities: Bedside reading lamp, 24-inch touchscreen TV, and a seat that easily transforms into a bed.
4. Qantas Airlines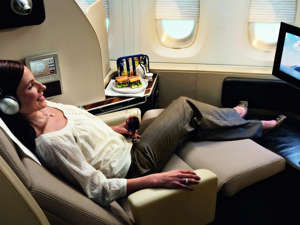 © Courtesy: Qantas, Provided by The Huffington Post Qantas Airlines' first class cabin blends a futuristic interior with luxurious details. Equipped with rotating seats that recline, you can sit upright facing the front of the plane one minute, then spin to the side and recline into a flat bed.
Amenities: Sheepskin-covered full-length beds, touchscreen LCD screens with 1,000 on-demand options, toiletry kits, and cotton pajamas.
5. All Nippon Airways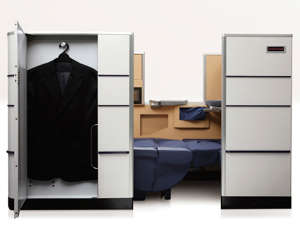 © Courtesy: ANA, Provided by The Huffington Post ANA's First Square suite, inspired by Japan, maximizes organization and comfort, inviting you to hang your clothes and store your baggage and personal items with ease. You'll also feel at ease yourself, as the mattresses disperse body pressure for added comfort.
Amenities: Teijin fiber comforters, "Angel Float" pillows, international satellite telephone, adjustable dining table, noise-canceling headphones, and 23-inch LCD widescreen TVs.