8 glamping spots that are perfect for any season

HuffPost
4/11/2015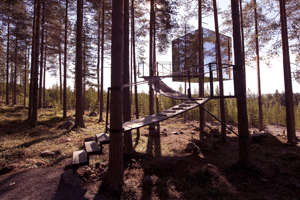 It's no secret that we love glamping so much that we'd like to do it all year long. As fun as sleeping on the rocky ground is, we prefer a cozy bed sheltered in a sturdy (already assembled) canvas tent. From treehouses to Airstreams, we can't get enough of this luxurious take on traditional camping.
That's why we've gone through and found the eight of the most amazing glamping locations that we have ever seen. Not only do these spots embrace their natural settings, but they also bring guests comfort and ease through modern amenities and stylish furnishings--and with heating and cozy blankets, they're perfect for any season!
Take a look at these eight spots, and be sure to check out our collection inspired by this style of camping.
1. The Treehotel

Unlike other camping locations, the Treehotel in Sweden takes you up into the branches of its forest environment. From among the leaves, contemporary structures offer you a place to spend the night. Designed by Scandinavia's leading architects, these suspended structures are one of a kind. Whether you're encased in a mirrored box or giant nest, you've never experienced nature in this way before.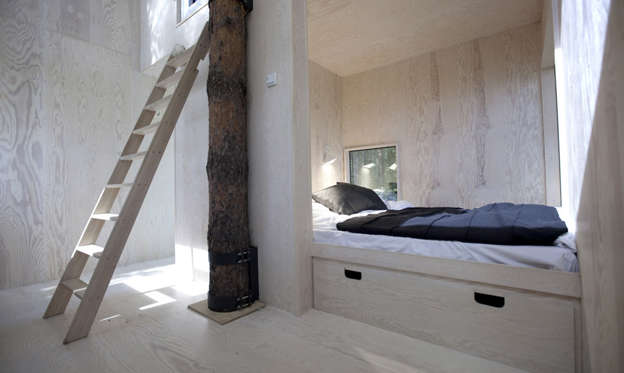 Photo Credit: Treehotel
© Provided by The Huffington Post
2. Kampgrounds of America (KOA)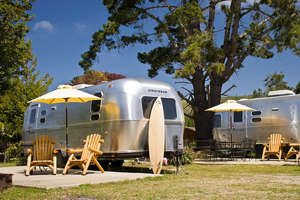 These KOA campgrounds are located in the Santa Cruz/Monterey Bay, and they're the perfect place to glamp with the whole family. With cabins as well as Airstreams available for rent, you can find just what you need for your home-away-from-home. There's also plenty to do when you're not in your little glamping house, like biking, riding the fun train, coconut tree climbing, and watching hilarious performances at the campfire theater. This is the perfect way to get everyone off of their electronic devices, and bring the family together for some good old fashioned fun.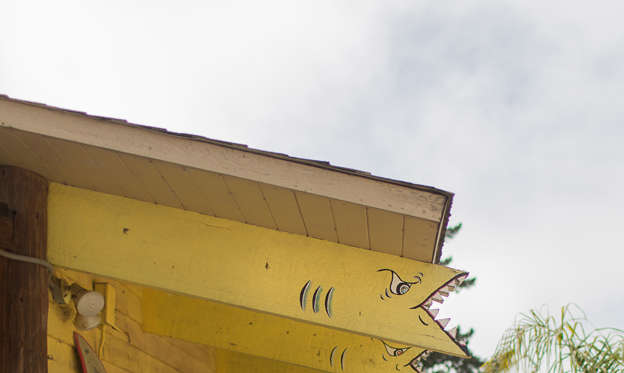 Photo Credit: Jessica Doll for Hej Doll
© Provided by The Huffington Post
3. The Dixie Daisy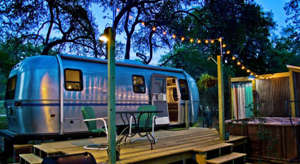 If there's a part of you who is a mid-century retronaut, then this is the renovated Airstream for you. Located in Wimberley, Texas, it comes furnished with retro designs that are sure to light up your day and night.
The inside of the trailer is painted a sunny yellow, and vintage John Wayne movie posters and cowboy themed curtains keep everything feeling young and joyful. Equipped with anything you could need to enjoy those gorgeous Southern nights, you can spend time going from the bubbling waters of a hot tub to the swinging hammock to the trickling waters of the outdoor shower.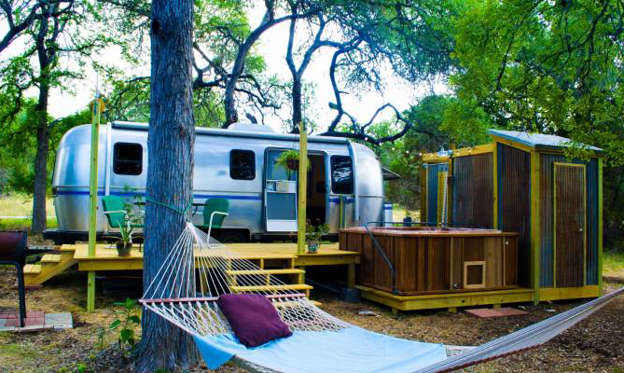 Photo Credit: CoolStays
© Provided by The Huffington Post
4. The Antlers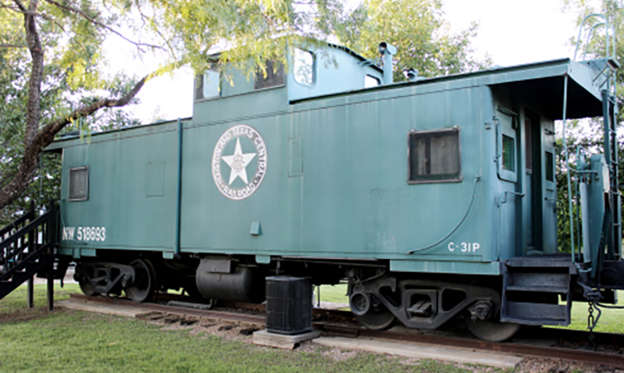 Photo Credit: Gusto and Grace
© Provided by The Huffington Post
Though we enjoy all of the rooms offered in this classic Texan hotel, what really grabs our attention are the vintage train cars that have been transformed into rooms. For anyone who ever read The Boxcar Children, these cabooses are fun options for a "camping" trip (but don't worry, they each have working plumbing and air conditioners inside).
5. The Hobbit House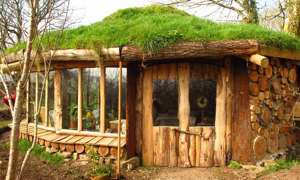 © Provided by The Huffington Post Photo Credit: Canopy & Stars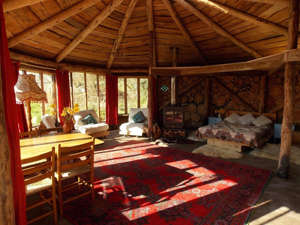 © Provided by The Huffington Post Photo Credit: Canopy & Stars
Whether you're a Tolkien fan or not, it's worth traveling to Cornwall, England for a stay in Plan-It Earth Hobbit House. A circular structure made of cob and cordwood, this is an eco-friendly home that feels like it's from another world. Glimmering designs along the interior walls catch the light, sheepskin from Plan-It Earth's sheep accent the space, and an opening in the ceiling makes stargazing possible. The ultimate in sustainable living, this is a one-of-a-kind house that everyone must see. 
6. Elmley Nature Reserve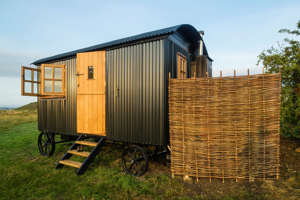 © Provided by The Huffington Post Photo Credit: Robert Canis for Elmley Nature Reserve Located on the edge of a family-run farm, this glamping location is quaint, secluded, and stunning. Part of a national nature reserve, it offers glimpses of some of the world's rarest birds as well as other creatures. From one of the handcrafted shepherd's huts, you can gaze out over the wetlands. Inside, you'll be comforted with cozy beds, hot running water, and individually decorated interiors. Outside, you can join other campers as well as the farm owners in communal spaces located in the Victorian pitch-pine barn.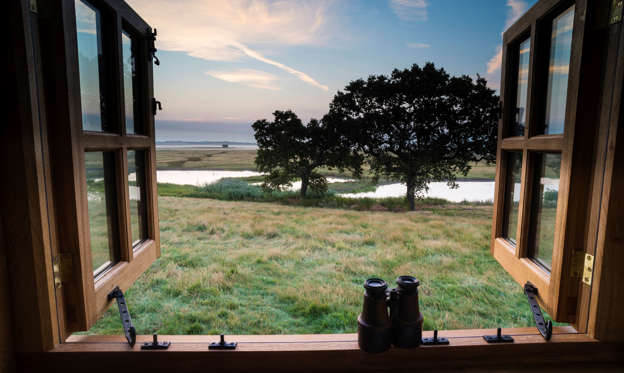 Photo Credit: Robert Canis for Elmley Nature Reserve
© Provided by The Huffington Post
7. Clayoquot Wilderness Resort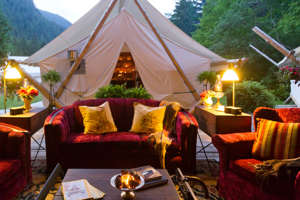 Your stay at Clayoquot Wilderness Resort in Tofino, Canada not only offers sparkling wine, five-star cuisine, and gorgeous white tents, but also an educating experience about Canada's environment and the part you can play in restoring and keeping it healthy. Come nightfall, drift asleep in luxurious duvet covers and enjoy the character that antiques bring to your tent. During the day, enjoy a hike through an old growth forest and learn about salmon and wildlife restoration.
Photo Credit: Clayoquot Wilderness Resort
© Provided by The Huffington Post
8. Whitepod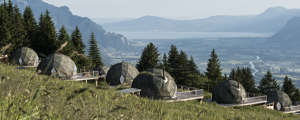 This has to be one of the coolest versions of "glamping" that we've ever seen. A campground of futuristic-looking "pods," Whitepod is a mix of Dome in the Desert and Scandinavian style. The shape of these pods allow for sturdiness without a huge amount of materials. With a wooden stove, running water, and lots of natural light, these mini suites are perfect for enjoying the Swiss Alps in a sustainable home. In both the summer as well as the winter, enjoy the wonderful contrast of seclusion and openness, and be sure to try racing huskies, hiking, and skiing while you're there.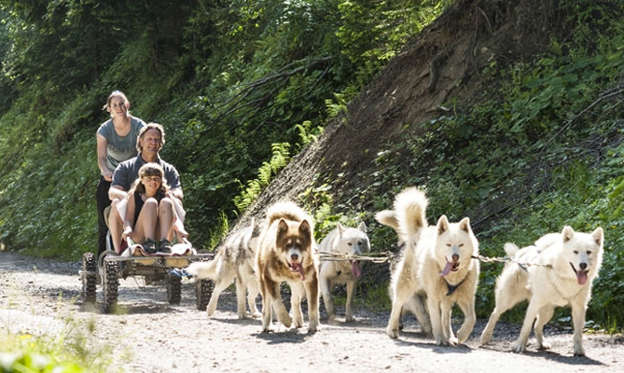 Photo Credit: Whitepod
© Provided by The Huffington Post
We love being close to nature, but have to admit that we're fans of running water, working plumbing, and cozy beds.
These eight glamping locations offer the perfect mix of both, and we couldn't be more enthralled by their designs.