9 Things You Didn't Know About Berlin

HuffPost
10/06/2015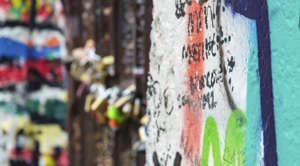 © Provided by The Huffington Post Street art on the remains of the Berlin Wall. As renowned for the harrowing events of World War II as for its ultra-modern reinvention as an arts and culture hub, Berlin is one of Europe's most celebrated capital cities, drawing millions of tourists each year. A city of vibrant contrasts, there's more to Berlin than meets the eye. To get you started on your journey of discovery, here are nine things you probably didn't know about Berlin.
1. Berlin hasn't always been the capital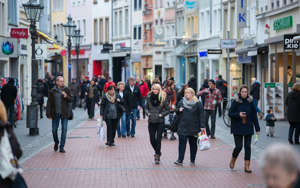 © Krisztian Bocsi/Bloomberg Shoppers pass retail stores on a pedestrianized shopping street in Bonn, Germany. Berlin only became the official capital of Germany in 1990 after the Berlin Wall fell and the country was reunified, but it also served as the capital between 1871 and 1945. Throughout the Cold War era, though, Germany was split into West and East Germany, with Bonn elected capital of the West and Berlin remaining capital of the East.
2. The city's most popular tourist attraction no longer exists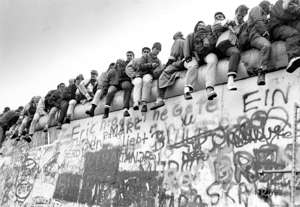 © AS/TS/Keystone USA/Rex Features East and West Germans alike clambered to get a look at each other's cities from the top of the Berlin Wall near Potzdamer Platz, Nov. 16 1989. The notorious Berlin Wall that segregated East and West Berlin for over 30 years remains one of the city's most popular tourist attractions, despite the fact that the wall itself no longer exists. After being triumphantly torn down in 1989, only a few short stretches of the wall remain standing, most notably the 1.3-kilometer section known as the East Side Gallery and the Berlin Wall Memorial.
3. Berlin is bigger than you think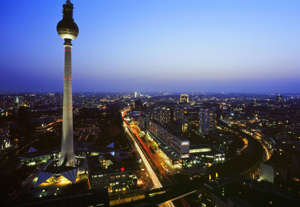 © Image Broker/Rex Features Panorama with TV Tower, Berlin, Germany. While the city is renowned for its iconic architecture and pioneering arts scene, Berlin's sheer size is the talking point among first-time visitors. Covering an incredible 892 square kilometers, Berlin is around nine times the size of Paris and falls second only to London as Europe's largest city by population. The city also has two main centers (thanks to its former East-West divide), 18 universities and colleges and one of Europe's tallest buildings -- the Berliner Fernsehturm, or Berlin TV Tower.
4. Berlin has more canals than Amsterdam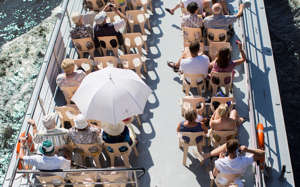 © Gero Breloer/AP Photo People on a tourist vessel cruise on Spree river in Berlin, Germany. The sprawling metropolis of Berlin isn't generally thought of as a riverside city, but with over 180 kilometers of waterways within city limits, it easily outsizes the famous canal networks of Amsterdam and Venice. In fact, Berlin has more canals than any other city in the world, connected by a staggering 1,700 bridges. It's no surprise, then, that cruising the River Spree is one of the best ways to take in the sights, and the river is also dotted with beaches, bars and swimming spots throughout the summer months.
5. Berlin has the world's largest Turkish population outside of Turkey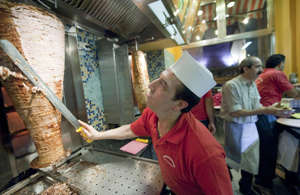 © Gero Breloer/AP Photo Doner chef Cango from Turkey cuts doner kebab in a Turkish restaurant in Berlin, Germany. If you're wondering why the döner kebab is so prevalent on the streets of Berlin, it's because the city allegedly houses the world's largest Turkish population outside of Istanbul -- many of whom moved to the city in the 1960s to take advantage of the shortage of post-war workers. Legend has it that the döner kebab (or at least a variety of it) was actually invented in Berlin, and you'll find an abundance of kebab stalls, Turkish pizza outlets and Turkish restaurants all around the city.
6. 40% of Berlin is underground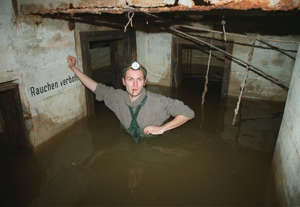 © Frieder Salm/AP Photo Berlin city planner Dietmar Arnold, 31, stands hip-deep in the water-filled concrete bunker under Alexanderplatz in former East Berlin in summer, 1995. With underground railway networks, elaborate World War II bunkers, escape tunnels, sewers and brewery cellars, it's estimated that 40% of Berlin's structures are underground, making the city almost twice as big as it appears on the surface. Best of all, many of the underground bunkers built during WWII are now open to tour groups, including some of the secret tunnels used by the Nazi party. The vast living complexes that exist beneath the city include bedrooms, bathrooms and even a labor room for pregnant women.
7. Berlin is a transport hub for Europe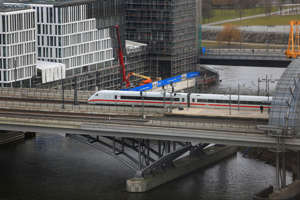 © Krisztian Bocsi/Bloomberg A Deutsche Bahn AG InterCity Express (ICE) train leaves Berlin Central Station. Berlin Central Station, which opened in 2006 with a dramatic opening ceremony, is the biggest train station in Europe and serves as a transport hub not only for Germany's extensive train network but for the rest of the continent. In addition to taking the train to national destinations like Hamburg, Cologne and Munich, you can travel directly to places like Novosibirsk in Russia or Astana in Kazakhstan. It's not only the station that ranks among the continent's largest buildings, either -- Berlin's KaDeWe (Kaufhaus des Westens) is Europe's biggest department store, covering over 60,000 square meters.
8. Berlin's best art is on the streets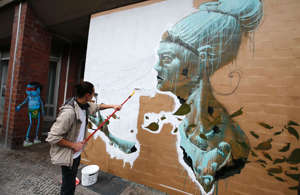 © Fabrizio Bensch/REUTERS German street artist 'Sokar uno' paints a mural which is part of the Urban Nation art project, on a residential building in Berlin, Oct 13, 2014. While the world-famous Pergamon Museum and the Alte Nationalgalerie are Berlin's flagship art museums, some of the city's most iconic artworks can be found on the street; Berlin's vibrant street art forms a key part of its UNESCO City of Design status.
The graffiti art adorning East Side Gallery and the "Pink Man" mural by artist BLU are among the city's most famous and striking works, but keep your eyes peeled as you'll find plenty of unexpected gems. Inspired to explore the rest of Berlin's art scene? The city also has an incredible 175 museums and galleries to satisfy all tastes.
9. The world's largest cylindrical aquarium is in Berlin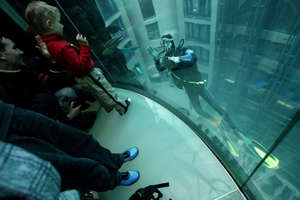 © Sean Gallup/Getty Images A diver cleaning the glass of a giant, cylindrical aquarium waves to visitors at the AquaDom in Berlin, Germany. One of Berlin's most unique attractions is the AquaDom, a 25-meter-high glass cylinder that houses over 1,500 exotic fish -- the largest aquarium of its kind in the world, found in the city's Radisson Blu Hotel. The most spectacular attraction, though, is the hotel's elevator, which tunnels through the center, allowing visitors an incredible 360-degree panoramic view of the tropical water world.

- Contributed by Zoe Smith for Viator