ACT accuses Greens of hypocrisy

NZ Newswire
27/09/2016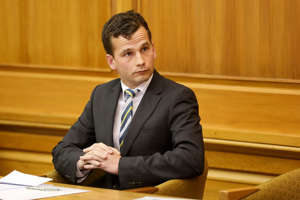 © Getty Images ACT leader David Seymour. ACT leader David Seymour says the Greens are being hypocritical because they criticised the way National endorsed him in Epsom and now they've made a deal with Labour in Mt Roskill.
The Greens announced on Tuesday they weren't going to put up a candidate in Mt Roskill if Phil Goff wins the Auckland mayoralty.
Mr Goff is hot favourite to win the election in October, and if he does there will be a by-election in the seat he has held since 1981.
Standing aside will help Labour retain the seat, and the Greens say their decision is evidence that the co-operation agreement they signed with Labour is working.
National has previously endorsed ACT candidates in Epsom and hasn't campaigned for the electorate vote so its partner party can win the seat.
"The opposition's hypocrisy over `dirty deals' is brazen," Mr Seymour said.
"Strategic voting is a reality of MMP but hypocrisy is optional - Labour and the Greens have shown how cheap their words are by participating in a deal that far eclipses the electoral arrangements they criticise every election."
Mr Seymour says Green Party MP Julie Anne Genter said before the last election that Prime Minister John Key's endorsement of him was "undemocratic".