Adams denied winner for OKC

NZ Newswire
19/04/2016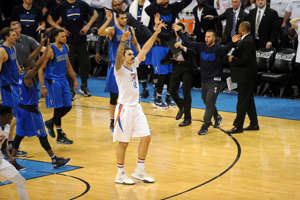 © Mark D. Smith-USA TODAY Sports Oklahoma City Thunder center Steven Adams Steven Adams has been denied what would have been a dramatic winning basket as the Oklahoma City Thunder were beaten 85-84 at home in their NBA play-off series against the Dallas Mavericks.
Adams and his teammates started celebrating as his putback appeared to give the Thunder a 2-0 lead in the best-of-seven series.
The shot was initially ruled good, but the officials waved it off on review, with the New Zealand centre having been ruled to have been a split-second too late.
Adams ended with nine points and seven rebounds in 30 minutes of court time.
The Thunder were held to 34 per cent shooting from the field as the Mavericks, thumped by 38 points in game one, bounced back to level at 1-1, with game three in Dallas.