Adams plays part in OKC upset of Warriors

NZ Newswire
17/05/2016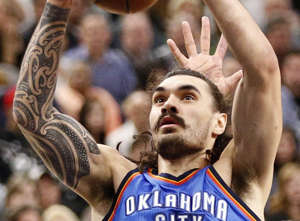 Steven Adams has made a big contribution with a double-double as the Oklahoma City Thunder pulled off a 108-102 upset over the defending champion Golden State Warriors in game one of the NBA Western Conference finals.
The New Zealand centre collected 16 points and 12 rebounds during his 36 minutes on court as the Thunder came from behind to win in Oakland.
His haul followed his four double-doubles as the Thunder won their semi-final series over the San Antonio Spurs in six games.
The Warriors, coming off a record-breaking 73-9 regular season, had led for most of the match, having been up 60-47 at half time.
But the Thunder pulled level early in the final quarter and when Adams produced a hook shot for two, they had opened out a 101-93 advantage with just under five minutes to go.
The Warriors closed to within one point but a couple of Adams free-throws pushed out the margin again.
OKC guard Russell Westbrook topped all scorers with 27 points and also had 12 assists and seven steals and six rebounds.
Forward Kevin Durant finished with 26 points and 10 boards.
League MVP Stephen Curry led the Warriors' scoring with 26 points and he also had 10 rebounds and seven assists.
Game two of the best-of-seven series is at the same venue on Thursday (NZT).
The series winners play either the Toronto Raptors or the Cleveland Cavaliers, whose Eastern Conference finals begin on Wednesday.
THUNDER UP. Full credit to Steven Adams, that streak of free throws was crucial, Westbrook finally turned up! Love seeing 20k GSW fans sad.

— Michael S (@Mikehnz) May 17, 2016
This Thunder team has looked completely different since Steven Adams got that cotton in his nose. Secret weapon. pic.twitter.com/MxFC7nHZ8b

— Up The Thunder (@UpTheThunder) May 17, 2016
Is it just me or does @RealStevenAdams look and play like a young @PhilJackson11? #NBAPlayoffs #StacheBros pic.twitter.com/KiINSCl69s

— Will Fernandez (@whfernandez) May 17, 2016