Air NZ continues fall while Fletcher rises

NZ Newswire
13/10/2016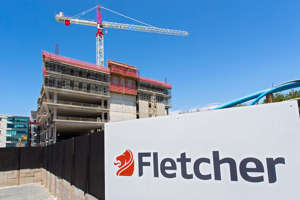 © Dave Rowland/Getty Images Fletcher Building New Zealand shares were mixed as Air New Zealand hit a two-year low in the face of increased competition, while Tegel Holdings and Fletcher Building climbed.
The S&P/NZX50 Index gained 12.6 points, or 0.2 points, to 7,120.05. Within the index, 25 stocks fell, 13 rose and 12 were unchanged. Turnover was $131.7 million.
Air New Zealand was the worst performer on the index, down 4.7 per cent to $1.715, and down 32 per cent this year.
"There are really three headwinds they're facing," said Matt Goodson, managing director at Salt Funds Management.
"First, in the last few days there has been a stronger oil price. Then overnight there was a dire warning from Cathay Pacific basically saying they're going back to scratch and reviewing their business - they're having much more direct competition from Chinese airlines who seem more interested in size than profitability.
"There's also more evidence of rampant competition on routes affecting elements of Air New Zealand's business."
Xero fell 3.1 per cent to $17.60, a three-and-a-half month low, and has dropped 11.3 per cent in the last week.
Heartland Bank fell 2 per cent to $1.51, Westpac dropped 1.8 per cent to $32.35, and ANZ declined 1.8 per cent to $29.67.
Tegel Holdings gained 1.4 per cent to $1.47. The shares have dropped over the past month as Ingham Group, Australia's largest chicken processor and the second-largest in New Zealand, heads for an initial public offering and ASX listing.
In September, the cost of chicken breasts declined 4.2 per cent to $13.52 per kilogram, the lowest level since October 2007, Statistics New Zealand said.
Fletcher Building was the best performer, up 4.6 per cent to $10.47, while Meridian Energy rose 2.2 per cent to $2.75 and Mercury New Zealand gained 2 per cent to $3.02.
Ryman Healthcare rose 0.1 per cent to $8.95. The country's biggest listed retirement home operator has bought a former school in the Coburg suburb of Melbourne to redevelop.
New Zealand Refining was unchanged at $2.40.
Outside the benchmark index, Scott Technology was unchanged at $2.10, and is up 41.9 per cent this year.