Air NZ ends turbulent week on high note

NZ Newswire
14/10/2016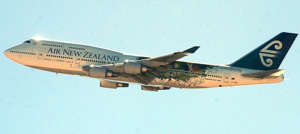 © Ross Setford/Getty Images Air NZ ends turbulent week on high note New Zealand shares rose slightly, led by Summerset Group Holdings and Air New Zealand, while Steel & Tube Holdings also gained.
The S&P/NZX50 Index rose 13.21 points, or 0.2 per cent, to 7,133.26. Within the index, 26 stocks rose, 16 fell and eight were unchanged. Turnover was $111 million.
"We are a touch firmer but overall it hasn't been a very good week for the market," said Grant Williamson, director at Hamilton Hindin Greene.
"The market still seems to be under a bit of selling pressure, but we have seen a rebound in certain stocks that have been sold off in recent times. It's a bit of a mixed bag, we've pretty much followed Australia."
Air New Zealand gained 1.8 per cent to $1.745, bouncing off Thursday's two-year low.
"It's been hit very hard with investors thinking increased competition and slightly higher oil prices is going to have an impact on that company - to me, it looks like that's been a little bit overdone," Williamson said.
Summerset Group led the index, up 1.9 per cent to $4.86. Contact Energy gained 1.7 per cent to $4.90 and Xero rose 1.7 per cent to $17.89.
New Zealand Refining Co was the worst performer, down 2.5 per cent to $2.34, while Auckland International Airport dropped 1.8 per cent to $6.62, Tower fell 1.6 per cent to 90.5 cents and Trade Me Group shed 1.5 per cent to $5.24.
Outside the benchmark index, Steel & Tube Holdings advanced 3.3 per cent to $2.22. It will buy Composite Floor Decks, which supplies and installs composite floor decking, for $13.3m, with a further $3m possible based on its performance over the next two years.
Scott Technology gained 4.8 per cent to $2.20. On Thursday, it reported a record $11m in full-year pre-tax profits, benefitting from rising interest globally in automation as companies seek to reduce costs and boost productivity.
Michael Hill International rose 3 per cent to $1.74.