Aircraft to explore jet streams
Press Association
13/09/2016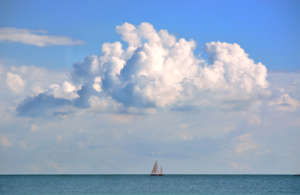 A scientific aircraft is set to soar over the Atlantic in a mission to improve the accuracy of weather forecasts.
The FAAM (Facility for Airborne Atmospheric Measurements) aircraft will set off from Cranfield, Bedfordshire, next month on a trip that will see it explore jet streams to measure factors such as wind speeds and humidity.
Scientists hope this information may help give a clearer picture of weather coming into the UK from countries in the west, such as Iceland and North America.
The project will work closely with teams in Germany and France.
Professor Geraint Vaughan, who will be conducting the research on board the BAe 146-301 aircraft, said: "We are working towards solving the long-term problem of our inaccurate weather forecasting.
"When we get it wrong, it can usually be traced back to something happening in the jet stream that we didn't pick up, something coming towards us from upstream. It's to our embarrassment as a community that our forecasts are not capturing this properly."
He hopes that flying into the jet stream at a high level to capture information on factors such as temperatures will pave the way to developing a more accurate model for forecasting the weather.
Professor Rowan Sutton, director of climate research at the National Centre for Atmospheric Science (NCAS) who will be flying the FAAM, said: "It's very much a new venture. We will be bringing together a whole range of capabilities and technologies in a way that has never been done before."