Akl Harbour anniversary rules for boaties

NZ Newswire
11/11/2016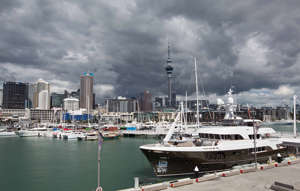 © Brendon O'Hagan/Bloomberg It's the the Royal New Zealand Navy's 75th anniversary, and between November 10 and 22 temporary regulations will be in place. Celebrations will be taking place to mark the Royal New Zealand Navy's 75th anniversary over the next few weeks, and in an endeavour to ensure smooth sailing, temporary regulations will be put in place.
Between November 10 and 22, boaties will have to stay at least 100 metres away from naval vessels, and at least 500m when they are moving.
Eight naval vessels from New Zealand and around the world will line up in formation in the harbour on November 19 for the International Naval Review.
Boats must stay 60m away when they are anchored, will also not be allowed within 200m of the Devonport Naval Base.
"This is one of the biggest, most exciting events that's happened on Auckland's harbour. We're encouraging everyone to get out on the water, just make sure you know the rules," said Auckland's Harbourmaster Andrew Hayton.
Police, Navy and Harbourmaster boats will making sure the rules are being followed.
During this time boats are also not allowed within 60m of the downtown wharfs.
This includes Wynyard Wharf, Queens Wharf and the Downtown Ferry Terminal Basin between Princes Wharf and Queens Wharf.
Ferry users are being told to allow plenty of time for their journeys as ferry services may be delayed.