All Black Cane wary of Pumas' threat

NZ Newswire
5/09/2016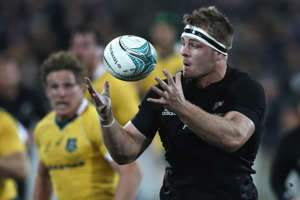 © Phil Walter/Getty Images Sam Cane of the All Blacks The All Blacks will go in as firm favourites, but flanker Sam Cane remains wary of Argentina before their Rugby Championship clash in Hamilton.
World champions New Zealand have won 13 Tests in a row, including two dominant performances against Australia to retain the Bledisloe Cup.
The Pumas will head to Waikato Stadium on Saturday night with a loss and win over the Springboks from two tight encounters in the tournament's first two rounds.
"They probably should have had two wins over South Africa," Cane said.
"The way they finished Super Rugby, I wasn't too sure what they were going to turn up with, but obviously under their national coach they're humming.
"Once they get that ball moving, their off-loads are some of the best in the world."
Cane is confident the All Blacks' unbeaten record in 22 meetings with Argentina won't lead to complacency either.
"We keep our feet firmly on the ground and don't get ahead of ourselves because, with Test match footy, you have to turn up every week," he said.
"We have goals and visions that we're striving for as a team and to do that we need to be consistent and consistently improving."
The Chiefs co-skipper said the easiest thing for winning teams was to rest on their laurels.
"As leader in this squad we are hard on ourselves and pull each other up when standards drop," he said.
The 24-year-old Cane also believed the All Blacks had successfully moved on since the departures of the likes of inspirational captain Richie McCaw, Daniel Carter, Conrad Smith and Ma'a Nonu.
"It's a pretty enjoyable environment to be part of, with guys who were previously not on the field contributing more," he said.
"Everyone is growing and stepping up in those spots that have been left by guys who held them for years, so it's an exciting time to be in the squad."