All Black Sevens to face Tietjens' Samoa

NZ Newswire
11/12/2016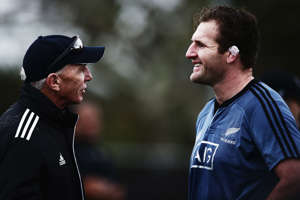 The All Blacks Sevens will come face to face with long-time coach Sir Gordon Tietjens in their opening match of the world series tournament in Wellington.
New Zealand have been drawn alongside Samoa, France and the United States for pool play at the January 28-29 event, the third tournament of the series.
It will be the first in charge for Tietjens, who begins his tenure as Samoa coach on New Year's Day.
The 61-year-old ended a decorated 23-year reign as New Zealand coach in October, two months after the All Blacks Sevens failed to win a medal at the Rio Olympics.
Tietjens has been unable to coach Samoa through the opening two rounds in Dubai and Cape Town because he is contracted to New Zealand Rugby until the end of the year.
New Zealand are fifth through the first two rounds while Samoa are 12th.
The pool draw has pitted early series leaders South Africa against Olympic champions Fiji.
WELLINGTON SEVENS POOLS
Pool A: England, Kenya, Argentina, Papua New Guinea.
Pool B: South Africa, Fiji, Australia, Japan.
Pool C: New Zealand, United States, France, Samoa.
Pool D: Scotland, Wales, Russia, Canada.