All Blacks critique heavy Pumas win

NZ Newswire
12/09/2016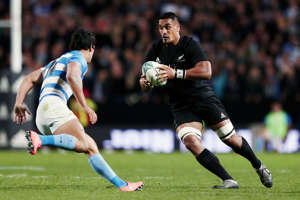 The All Blacks are digging beneath the lop-sided scoreline against Argentina and don't like what they see.
A player-driven meeting on Monday was all about highlighting what went wrong in the first 50 minutes of Saturday's Rugby Championship Test against Argentina.
They led 24-22 at that point before galloping clear with 33 unanswered points in the last half-hour.
Veteran flanker Jerome Kaino says the weaknesses evident in Hamilton won't have gone unnoticed by the Springboks, who they host in Christchurch on Saturday.
"Attitude and physicality is at the top of the list. Argentina put us under a lot of pressure through our heart and with their offloads," Kaino said.
"There's a lot to fix around there, especially with the big boys that the South Africans have."
A second meeting involving the forwards will be held to address a lineout which mis-fired for the first time this year.
Kaino rebuffed a suggestion the unbeaten All Blacks should be confident against a Springboks team who have lost successive Rugby Championship Tests, including 23-17 to the Wallabies in Brisbane.
"After our review that we just had, confidence isn't the word," he said.
"We definitely want to improve and get out there to fix those things.
"And South Africa will be hurting after that game at the weekend and they'll be here to prove a point."
Kaino revealed it was the players who led the stern review of the Argentina performance, rather than coaching staff.
While he was delighted with how they finished the Test, Kaino says there will be other Tests when they pay a dearer price if they go in with the same modest physicality at the tackle and lack of breakdown focus.
"If the coaches have to tell you that 'this is where you have to improve' before you point it out, then there's something wrong," he said.
"We've just taken the scoreboard out of it. We know that wasn't a true reflection of how tough that match was and how much pressure we were under.
"We drilled down into those periods when we were under pressure and how we could do better."