All Blacks Sevens must improve, Curry says

NZ Newswire
9/12/2016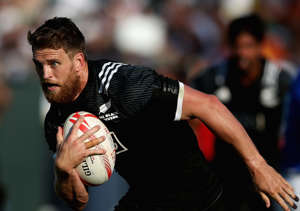 All Blacks Sevens captain Scott Curry is demanding more focus and dedication from his players at the Cape Town world series tournament this weekend.
The New Zealanders crashed out in Dubai last week, finishing seventh in a disappointing start to the post-Tietjens era.
They were thumped 40-0 by South Africa in the quarter-finals, then went down 20-12 to Australia in a classification game to record their third defeat of the weekend and finish seventh.
"We want to step up our game this weekend," Curry said.
"We learnt a lot from Dubai and we have been working hard this week to turn those learnings into an improved performance.
"The newer players got the chance to have big match experience last weekend. The combination of that experience and more time together to bed in our game-plan should see us do a lot better this week."
Bay of Plenty first five-eighth Dan Hollinshead has been called into the squad after Beaudein Waaka injured his ankle in Dubai.
Co-coach Scott Waldrom says the Cape Town tournament offers the opportunity to further develop the team's game-plan and give players important game time.
"We're continuing to develop the players and new structures this season that will service us better in the future," he said.
"In Dubai we started to see some improvements, but we lacked consistency and high level game time experience.
"This weekend we should see an improved performance and I believe this team is good enough to win if we get it right."
All Blacks Sevens: Scott Curry (captain), Tim Mikkelson, Antonio Kiri Kiri, DJ Forbes, Dylan Collier, Iopu Iopu-Aso, Rocky Khan, Sherwin Stowers, Jonathan Ruru, Isaac Te Tamaki, Sione Molia, Junior Ngaluafe. Travelling reserves: Billy Ropiha, Dan Hollinshead.