All Blacks Sevens planning ahead

NZ Newswire
23/11/2016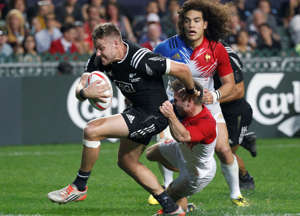 © AP Photo/Kin Cheung Tim Mikkelson of New Zealand, left, is tackled by Stephen Parez of France, center, during a first day match at the Hong Kong Sevens rugby tournament in Hong Kong, Friday, April 8, 2016. It's not too soon for the All Blacks Sevens to look ahead to the 2020 Tokyo Olympics, co-coach Scott Waldrom says.
Waldrom and fellow coach Tomasi Cama have named a 12-strong squad for the opening world sevens series tournaments in Dubai on December 2-3 and Cape Town (December 10-11).
Hawke's Bay halfback Jonathan Ruru is the sole new cap, and the team includes plenty of experience in players such as DJ Forbes, Tim Mikkelson and captain Scott Curry.
"Our goal is to get some wins on the board and to build a player-led team environment," Waldrom said.
"This is about developing both the team dynamic and the game plan to win gold in Tokyo in 2020."
Waldrom had been impressed with the energy and excitement in the team this week as they look to bounce back from the disappointment of their 12-7 quarter-final loss to Fiji at the Rio Olympics.
"They have trained and trialled with real intent and are keen to rebuild some pride in the black jersey," he said.
"We want to peak at pinnacle events, so this is the start of our build-up to the Rugby World Cup Sevens, Commonwealth Games and Olympics."
Skipper Curry said there is a new energy in the team.
"There is a re-energised buzz in the team and a real feeling of excitement about the upcoming series.
"We are hurting from Rio - we have learnt a lot, but you can't dwell on the past."
The team is: Scott Curry (captain), Tim Mikkelson, Antonio Kiri Kiri, DJ Forbes, Dylan Collier, Beaudein Waaka, Iopu Iopu-Aso, Rocky Khan, Sherwin Stowers, Jonathan Ruru, Isaac Te Tamaki, Sione Moli.