All Whites denied by fast-finishing Mexico

NZ Newswire
21/06/2017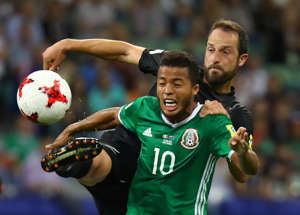 A vastly improved New Zealand have threatened to stun Mexico before falling 2-1 in Sochi, ending their qualifying hopes at the Confederation Cup.
It took two late goals from the startled Mexicans to avoid an enormous upset after the world No.17 ranked side trailed the 95th-ranked All Whites at halftime.
A second loss means New Zealand can't reach the semi-finals, regardless of their final group result against unbeaten Portugal on Sunday (NZT).
The performance nevertheless restored pride for Anthony Hudson's team, who lacked imagination in their opening 2-0 loss to hosts Russia.
Early physicality and pressing seemed to rattle the Mexicans, who couldn't prevent New Zealand creating several chances through neat build-up play.
Captain Chris Wood failed to capitalise on two half-chances but the Leeds United striker made no mistake in the 42nd minute.
He scored his 20th international goal - and New Zealand's first for 334 minutes of combined game time - when latching onto a deflected through ball from Clayton Lewis.
The introduction of midfielder Lewis was one of two changes made by coach Hudson from the Russian game, replacing Kosta Barbarouses in the same 5-3-2 formation.
The switch proved effective, with the New Zealanders relying on a creative, pass-based style rather than the long balls to Wood which had predominated in St Petersburg.
Dutch-based Ryan Thomas had an exceptional game, along with Michael McGlinchey as New Zealand surprised Mexico by dominating the middle of the park for chunks of the first half.
Brisbane-based Dane Ingham was the other new face, replacing Kip Colvey at right back.
However, the 18-year-old had a second half to forget as the revitalised Mexicans stormed back, creating a swag of chances.
Both goals came when the slippery Javier Aquino nipped past him down the left, setting up Benfica striker Raul Jiminez (54th minute) and Oribe Peralta (72nd), who both produced classy finishes.
It was a relief for the Mexicans, who were fielding eight changes from the team who opened with a 2-2 draw against Portugal.
Not content with a repeat of the same 2-1 scoreline as when the teams met in a friendly in Nashville last October, the All Whites surged forward late.
Their best chance came when Thomas struck the crossbar with a curling strike from the top of the box.
New Zealand's final game at St Petersburg, will have plenty riding on it for Portugal.
The European champions will need to at least draw to ensure a spot in the semi-finals.
Earlier on Thursday (NZT) their captain Cristiano Ronaldo scored with an early header to beat Russia 1-0 in Moscow.