All Whites ready to attack Mexico

NZ Newswire
4/10/2016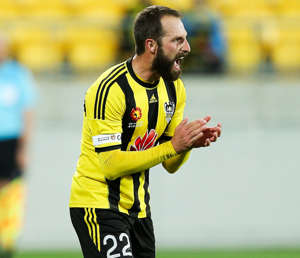 © Hagen Hopkins/Getty Images Andrew Durante Central defender Andrew Durante says the All Whites are keen to showcase a more attacking style of football when they meet Mexico in Nashville, Tennessee, on Sunday.
New Zealand's last match was a scrappy and uninspiring win over Papua New Guinea 4-2 on penalties in the Oceania Cup in June.
Durante didn't play in that tournament, having made himself unavailable for international duty for family reasons just over a year ago.
The 34-year-old Wellington Phoenix skipper has returned refreshed from the break, and says he's impressed with what a strengthened All Whites team has shown in training to date.
He says it's an encouraging sign ahead of a big 12 months, with the first round of Oceania World Cup qualifiers next month and the Confederations Cup in June next year.
"You don't get to be with the national team a lot, so you've got to make the most of the time you have, really listen to the instructions and the style of play that (coach) Anthony Hudson wants," Durante said.
"I'm excited by it, I think it's a really positive brand of football and I think New Zealand should be optimistic about what this group of players can achieve."
The All Whites have a point to prove against world No.15 Mexico, who denied them a place at the 2014 World Cup by winning their intercontinental playoff 9-3 on aggregate in November 2013.
"I played against Mexico last time, and we pretty much got touched up - they were way too good for us at the time," Durante said.
"I think we're way better prepared, seeing what Anthony wants to do with the team and the way he wants to approach the game - it's very exciting."
The All Whites, who also play the world No.22-ranked United States in Washington DC on October 12, have been bolstered by the return of skipper Winston Reid.
"We definitely won't be taking a backward step against either of these teams," he said.
"It's an exciting time - there's some great young players in the mix, and there's also some good pros as well.
"It's a good combination, and it's an exciting time for New Zealand football."