All Whites stutter to semi-final win

NZ Newswire
8/06/2016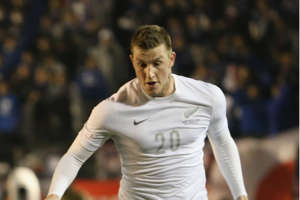 The All Whites weren't entirely convincing, but did enough to secure a spot in the Nations Cup final with a 1-0 semi-final win over New Caledonia in Papua New Guinea on Wednesday.
They will go on to play Saturday's final at Sir John Guise Stadium in Port Moresby against the winner of the Papua New Guinea-Solomon Island's semi-final.
A win there, and New Zealand will earn a place in the Confederations Cup in Russia next year, for the first time in seven years.
Memories of New Zealand's surprise 2-0 loss four years ago to New Caledonia at the same stage of the same tournament kept the All Whites on edge, and the potential was there right until the final whistle for another upset.
New Zealand survived a stop-start scoreless first half, and were fortunate to score early in the second through skipper Chris Wood's free kick four minutes after the restart.
Wood returned at skipper after injuring his shoulder in New Zealand's 5-0 win over Vanuatu last week, and provided much-needed direction and leadership up front.
His goal, while well-struck, should have been a regulation save for Jelen Ixoee but it slipped through the hands of the New Caledonian keeper into the net.
Despite going a goal up, the All Whites offered little in the second spell, New Caledonia's pace out wide creating numerous chances which were squandered by poor crossing.
New Caledonia threw numbers forward in search of an equaliser as the second half wound down, and All Whites keeper Stefan Marinovic was kept on his toes, particularly by the elusive and speedy Jean-Philippe Saiko.
Although New Caledonia dominated possession and peppered the All Whites goal with 23 shots to New Zealand's eight, they couldn't find an equaliser.
All Whites coach Anthony Hudson afterwards paid tribute to a tenacious New Caledonian team.
"It was tough, and credit to New Caledonia - I thought they were very good tonight," he said.
"We knew they were a good team, we knew they'd got good players, and we probably had a bad night."
Despite that, Hudson said he was happy with the way his team had battled for the win.
"We knew there was going to comer a point in the tournament where we were going to be under pressure, and we had to show a lot of character."