All Whites youngsters ready to learn

NZ Newswire
9/05/2016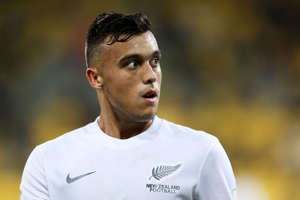 © Hagen Hopkins / Getty Images Clayton Lewis of New Zealand Seven years ago, 12-year-old Clayton Lewis watched mesmerised from the stands as All Whites striker Rory Fallon's crucial header saw New Zealand to a 1-0 victory over Bahrain and into the 2010 World Cup.
In Auckland on Monday, Lewis joined Fallon in the All Whites squad training for the Oceania Nations Cup in Papua New Guinea later this month.
Lewis said it came as something of a surprise to see the veteran forward lining up this week.
"I didn't expect him to be here but I'm happy he's come back," the 19-year-old Auckland City midfielder said.
"He's very good, he's very encouraging - obviously us being young players, we do make mistakes, and he's very encouraging keeping our heads up.
"I'm really looking forward to working with him."
Lewis says the memory of New Zealand's World Cup qualifying match in Wellington in late 2009 was still vivid.
"I was in the stands. Little did I know I could be here seven years later - it's a dream come true, and I can't wait to get started."
The All Whites haven't played since beating 92nd-ranked Oman 1-0 last November, after New Zealand Football's efforts to find opposition in FIFA's March window proved fruitless.
Coach Anthony Hudson will name his team for the Nations Cup, which runs from May 28-June 11 in Port Moresby, on Thursday.
Ranked 161st in the world, the All Whites will then travel to Brisbane for three warm-up games against Queensland club teams.
The winner of the Nations Cup will qualify for next year's Confederations Cup in Russia.