Amazon Announces Its Own Phone, The Fire Phone

HuffPost
18/06/2014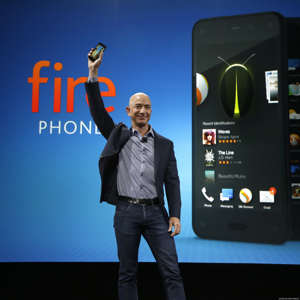 SEATTLE -- Amazon is officially in the smartphone business.

Confirming months of rumors, the world's largest online retailer unveiled on Wednesday its long-awaited smartphone, the Fire Phone

"The phone is gorgeous," said Jeff Bezos, Amazon's founder and CEO, to an auditorium full of journalists, analysts and Amazon customers. "I can't wait for you to get your hands on it. Premium materials, rubberized frame. Gorilla Glass on both sides."

The Fire Phone has a 4.7-inch screen, which Bezos characterized as the perfect size for one-handed use, and has a 13 megapixel camera. Bezos boasted that tiny electric motors adjusts the lens 100 times per second, counteracting jittery human hands holding the phone.

Acknowledging that people are increasingly using their phones to watch video, the Fire Phone will pre-buffer content an owner is likely to watch so he or she can start streaming it instantly. "It's an open ecosystem," Bezos said. "Netflix, HBO Go, ESPN, YouTube, Showtime."

The phone will also come with MayDay, the company's well received customer service feature that lets people video chat with an Amazon rep instant to troubleshoot tech problems.

This is a developing story.