Amazon Extends Its Shopping Cart To Twitter

TechCrunch
5/05/2014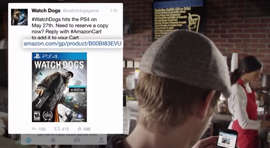 Amazon has a new feature that lets Twitter users add items to their Amazon cart by including a hashtag within a tweet.
After the user connects their Twitter account to Amazon, they can extend their Amazon shopping experience by replying to Amazon product links they see on Twitter including the hashtag #AmazonCart — or #AmazonBasket in the UK — to add the product to their shopping basket.
"Add it now, buy it later" is the slogan Amazon is using on a  explaining the new feature.
The feature not only extends the retail reach of Amazon beyond its own website, but co-opts Twitter users into product marketing activity — since they are publishing tweets indicating which items they are buying from Amazon.
Developing…