Ammonia leak at meatworks in Moerewa

NZ Newswire
12/05/2017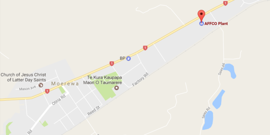 The AFFCO meatworks in Moerewa in Northland has been evacuated after an ammonia leak was discovered.
All people are accounted for and the leak in an engine room is isolated, a Fire Service spokeswoman says.
The Fire Service sent eight engines and when the first crews arrived on the scene it wasn't clear that all people were safe.
Emergency contamination procedures are under way.
AFFCO Moerewa processes ovine and bovine species, including calves, from slaughter through to further processing, according to the company's website.
It is the biggest employer in the region.