Anderson embraces batting role in India

NZ Newswire
14/10/2016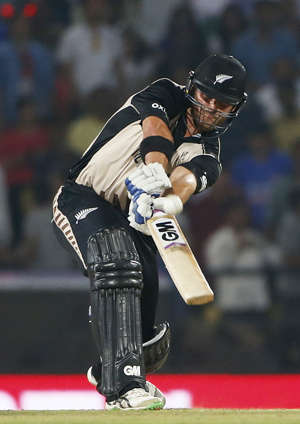 New Zealand allrounder Corey Anderson is content to play as a specialist batsman as he takes careful steps back into international cricket.
Anderson will bat in the middle order, possibly as high as four, in the five-match one-day international series against India starting in Dharamsala on Sunday.
His left-arm seamers won't be an option as he continues to recuperate from a back stress injury.
Anderson's last competitive game was the World Twenty20 final loss to India in Delhi in March before embarking on his second lengthy break caused by the same ailment.
The first was a year earlier, when pain prematurely ended his tour of England.
"It's reasonably tough second time around. You have a decent chunk out and you don't really want to sit out again," he said.
"I had to do it and I guess it gives you time to reflect on things and see where you've got to get better."
Anderson hopes to inject energy into a team coming off a 3-0 Test series loss to the Indians.
He will do it through a batting role he feels comfortable with.
Regarded primarily as a big-hitting death specialist, the 25-year-old is prepared to build an innings and it will be a bonus if he is around for "the so-called party at the end".
Anderson averages just under 38 from 40 ODIs, with an enviable strike rate of 114.
He has been bowling in the nets but says there is only a slim chance he will roll his arm over during the series.
"It's pointless pushing myself with such a big summer in front of us.
"I'd love to be doing everything but I'll focus on my batting and that'll be my main job."
Anderson says New Zealand's limited-overs record over the last two years is cause for confidence, having risen to third in the ODI rankings, one place ahead of India.
Their last game at the picturesque match venue in northern India was the eight-run win over Australia in a World T20 Super 10 match March, with Anderson taking two wickets in the final over.