Anderson facing uphill battle for fitness

NZ Newswire
4/11/2016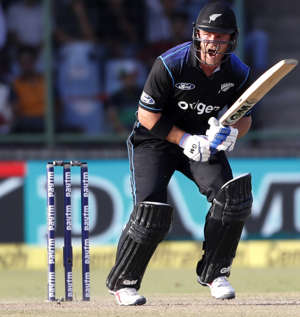 © AP Photo/Tsering Topgyal Corey Anderson bats against India during their second one-day international cricket match in New Delhi, India Corey Anderson faces an uphill battle to be selected for the Black Caps two Test series against Pakistan in New Zealand later this month.
The all-rounder had a disappointing tour of India averaging less than 8 runs with the bat in his four innings during the one day international series.
Anderson now needs to produce the goods for the Northern Knights against Canterbury to convince the selectors he's ready to play.
"Obviously I bowled in the last one-dayer which was probably a little bit unexpected but I got through that fine.
"I think leading into this four day game I've got loads to get through so my focus is solely with Northern Districts at the moment.
"It was a disappointing tour of India with the bat so I'm just looking forward to getting out there" he said.
Anderson, who has been battling a series of injuries over the last two years including a reoccurring stress fracture in his back, admits it's been tough on the sidelines.
"I've spent a lot of time out of the game - more than what I would have liked but it gave me a lot of time to reflect on what I needed to do.
"The more you stay out of it the more you want to get back into it so my main goal is to get myself into a position where I can stay on the park for long periods of time" he said.
Should he miss out on the tests in Christchurch and Hamilton, Anderson already has one eye on the upcoming Chappell Hadlee series with World Champions Australia next month.
"The only game I've played over there is the World Cup Final and that's one I would rather forget.
"It's tough playing them in their back yard but it's an exciting challenge so hopefully I've done the work to be able to be selected" he said.