Anova Updates Their Sous-Vide Device For The Smartphone-Toting Cook

TechCrunch
7/05/2014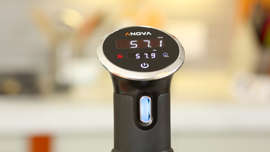 Another day, another cooker. Anova, a company I've covered before, has announced the , a precision circulator/heater that uses your phone to cook delicious sous-vide meals in a hot water bath. They've surpassed their
The original Anova was a self-contained device with temperature and time settings right on the machine. The new system will let you fine-tune them on a phone and also schedule cooking times so it can get started when you're not at home. Unlike, say, the , the Anova clips to the side of any standard pot and allows you to cook things in plastic zipper bags instead of vacuum-sealed plastic.
The new Anova will cost $169 – far less than fully-featured sous-vide machines. The creator, Jeff Wu, has been building circulators like this one for years and launched his first device in 2013. This update adds some much-needed smarts to the standalone appliance and looks to be as usable as the previous version.
This market is still wide open. While you would expect to see sous-vide machines in retail from major makers, I haven't seen a single one so far and it's great that these guys are filling that gap. As a guy who loves a nice sous-vide steak, I'm happy they're here.