Anti-coal protesters target Fonterra

NZ Newswire
22/01/2017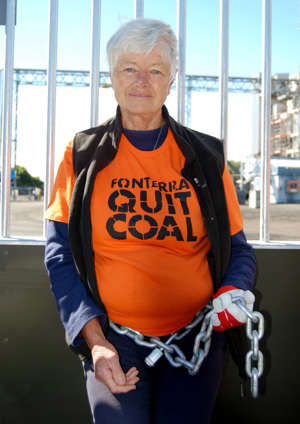 Six protesters, watched on by supporters in cow costumes, have chained themselves to the gates of a Fonterra factory to stop it receiving coal.
The Coal Action Network Aotearoa protesters gathered at Fonterra's Clandeboye factory in South Canterbury from around 7.30am on Monday to urge the dairy producer to quit using coal.
Fonterra is understood to use coal in the process of creating milk powder with protesters urging the company to use an alternative fuel, such as woodchips.
"Fonterra is our second largest user of coal and this factory burns 180,000 tonnes of coal a year," former Green Party co-leader Jeanette Fitzsimmons says.
"All of this ends up in our atmosphere, contributing to climate change. It's time for Fonterra to keep the coal in the hole and switch to woodchips instead."
"Fonterra's coal use is also propping up the mining industry - coal mines around the country are being re-opened and extended because of Fonterra's addiction to coal."
A Fonterra spokesman said the protest was not impacting operations and that the company had maintained an ongoing dialogue with CANA in recent years.
"(We) understand and share their position on coal," he said.
"Fonterra is committed to reducing environmental impacts across its operations through the use of new technologies and optimisation of our energy mix towards cleaner, more efficient forms of energy."
"We measure our performance based on energy intensity per tonne of product, and set the standard within the New Zealand dairy sector based on this metric."
The protest follows a CANA conference in Ashburton in Canterbury in which more than 50 campaigners from around the country held a two-day around the issues of Coal, Cows and Climate.