Anti-nuclear campaigners mark anniversary

NZ Newswire
7/07/2016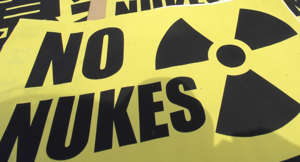 © AP Photo/Itsuo Inouye Anti-nuclear campaigners mark anniversary Two former prime ministers will be among those celebrating 20 years since a group of determined Kiwis changed how the world views the use of nuclear weapons.
Sir Geoffrey Palmer and Jim Bolger will speak at a symposium at the University of Canterbury on Friday, along with a bunch of expert guest speakers.
The event marks 20 years since a historic judgment by the International Court of Justice, ruling that the threat, let alone the use, of nuclear weapons was generally illegal.
Its decision was sparked by the World Court Project, an international campaign pioneered by a core group of New Zealanders.
Though the ICJ's ruling was not binding, it established a new norm on the status of nuclear weapons.