APN's Adshel takeover triggers NZME option

NZ Newswire
25/10/2016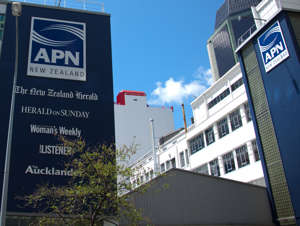 © EyesWideOpen/Getty Images Building of the Media company APN on November 24, 2010 in Auckland, New Zealand APN News & Media's $A268 million ($NZ285m) buy-out of its Adshel partner has triggered a clause that gives its former NZME subsidiary the right to buy the outdoor advertising unit's New Zealand assets on the same terms.
Sydney-based APN on Tuesday signed a deal to buy the 50 per cent of Adshel it didn't already own from Clear Channel Outdoor, giving it control of 22,000 static and digital panels across Australia and New Zealand.
Adshel generated earnings before interest, tax, depreciation and amortisation of $A42m on revenue of $A170mi in the year ended June 30, of which the New Zealand contributed 22 per cent.
APN plans to raise $A273 million through an institutional placement and renounceable entitlement offer to pay for the acquisition, selling shares at a discounted $A2.45 price.
However, the New Zealand business, which has 150 digital screens and another 70 planned for the current financial year, could get bought by NZME under an option included in the media company's demerger from APN earlier this year.
Auckland-based NZME, which publishes the New Zealand Herald newspaper and operates the Radio Network stations, has one month from the date of completion to make up its mind on whether to exercise the option and a further two months to complete its acquisition if it does, APN said.
"If NZME elects to exercise the option and acquires Adshel NZ from APN, APN will consider, and if appropriate having regard to the position of APN at the relevant time, implement one or more capital management initiatives to return excess capital to shareholders," APN said.
The price payable by NZME would be calculated on an ebitda multiple, implying the New Zealand business could cost $A59m.
APN and NZME have a 12-month non-compete clause, which excludes the New Zealand Adshel business.
NZME chief marketing officer Liza McNally didn't respond to requests for comment on whether the New Zealand media group will exercise the option.