Apple growers set for bumper harvest

NZ Newswire
17/11/2016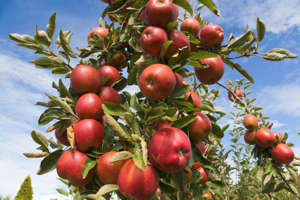 New Zealand's apple growers are on track to grow their largest export crop.
A total of 21.5 million cartons of fruit, worth a record $800 million, has been forecast for the 2017 season.
Pipfruit NZ chief executive Alan Pollard says the industry's success is breaking all records.
"We are the first of New Zealand's larger primary sectors to meet the government's challenge of doubling exports by 2025," he said.
"We are well ahead of our own target of becoming a billion-dollar industry by 2022."
Mr Pollard said growers had gone from producing 16 million cartons in 2012 to 19.5 million cartons this year.
"Our apples have the highest food safety profile of any fruit or vegetable, earning us exclusive market access," he said.
"We have developed a mix of proprietary New Zealand varieties that appeal to the new apple consumers, particularly in the developing Middle Eastern and Asian markets."